Jealous Wife Shots Husband in the Head Dead After Returning in Wee Hours of the Morning
The deceased is said to have been killed after a fight with his wife, Molly Katanga, but it has not yet been determined who exactly pulled the trigger because the woman was also found unconscious in their bedroom.
By DailyNews Ug
The couple quarrelled for a few minutes before a loud bang was heard in the bedroom
Kampala businessman and Ankole Prince, Henry Katanga, was shot dead on Thursday morning after quarrelling with his wife, Molly Katanga at their marital home near Rivonia Suites in Mbuya, Kampala.
Apparently, Katanga returned home in the wee hours of Thursday after partying with friends which enraged Molly.
The couple quarrelled for a few minutes before a loud bang was heard in the bedroom.
The couple's daughter, Tricia rushed to the parents' bedroom only to find her dad's head oozing blood. He was dead.
Tricia's mother lay unconscious on the bedroom floor.
Molly was rushed to IHK Hospital in Namuwongo, Kampala.
The family of the deceased say Molly shot her husband dead during the quarrel with her husband.
However, Molly's family members claim Katanga beat her Molly so badly that he thought she was dead and decided to commit suicide.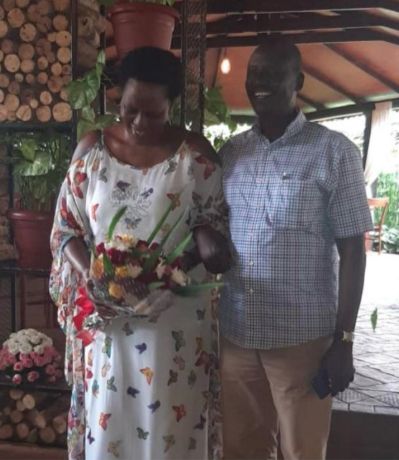 Both families are well-connected in the top circles of the country's political and military establishment.
Molly is a top supplier of the defence ministry, earning billions of shillings every year. Most of her relatives serve in the armed forces.
Police are expected to issue a statement on the high profile case tonight.
The case brings to memory the tragic death of wealthy Kampala businessman, Juvenal Nsenga in 2013.
Nsenga died after his wife, Uwera overran him with a car at the gate of their family home.
The couple had unresolved domestic problems. Uwera was convicted and sentenced to 20 years in prison for the murder of Nsenga.
The Katangas attended the wedding of their daughter at Mestil Hotel this past Saturday.
"They were jovial and seemed to enjoy every moment," said a close friend who attended the wedding ceremony, emphasising, "We really don't understand what could have gone wrong."
Domestic violence
Cases of domestic violence have been on the rise in Uganda, according to police records.
A total of 17,698 cases of Domestic Violence were reported to Police in 2022 compared to 17,533 cases reported in 2021 thus giving a 0.94% increase in the volume of domestic violence registered.
A total of 301 cases of murder as a result of domestic violence were reported to the Police in 2022.
#henrykatanga
#henrykatanga
Credit: CR