Days Before Being Shot By His Daughter & Wife Team, Tycoon Henry Katanga Had Made a New Will-Sister
Theories regarding his death are rampant; some claim Molly pulled the trigger, while others whisper of suicide while new finferpointing is focused on his own daighter. Yet, this case is far from ordinary, as the Katangas have managed to keep the world at bay. There are no photos, no footage, not even a glimpse of the crime scene - a rarity in a murder investigation.
The mysterious death of Henry Katanga, a once-obscure figure, has ignited a firestorm of intrigue that threatens to expose the darkest underbelly of power and privilege.
In this tangled web of murder and manipulation, the police are doing their best to elude the probing eyes of the media, shrouding the case in a cloak of secrecy. Henry Katanga, a man of connections and influence in both business and security circles, lived a life unknown to the masses until his highly-suspicious demise.
The twist in this tale lies in his wife, Molly, has been the prime suspect in his death, who also boasts formidable connections within security circles. Her affiliation with this elusive world has ensured that the police, for reasons unknown, have not yet considered her a suspect.
The shooter's identity has been shrouded in mystery however close family friends and Mbuya Military Generals all know that Henry Katanga's own Daughter, flesh and blood, shot her own Father. Tracy Katanga's finger prints are all over the pistol. Sources have it that Gunshot residue (GSR) or Firearm discharge residue (FDR) particles that are expelled from the muzzle of a gun following the discharge of a bullet were apparently found on Tracy Katanga.
In an audio recording from a close relative, it is alleged that the fingerprints of both the wife and the daughter were found on the pistol.
The daughter's presence at home, having recently been married off just a week before, raises further questions.
She mentioned receiving a call about her parents' altercation and her purported struggle to break down a door to access the room.
It seems highly unlikely that her physical strength alone could breach a substantial mahogany door. Subsequently, upon entering the room, she discovered her unconscious mother on the floor and her father seated on the bed.
She promptly rushed her mother to IHK in Namuwongo for urgent medical treatment, even borrowing Ugx 5,000,000/= Ugandan Shillings from her aunt to cover Hospital admission fees.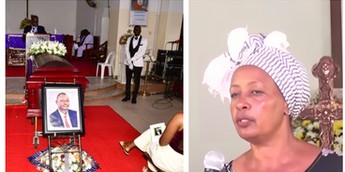 Shockingly, she did not initially realize her father's demise, and it was only later that she comprehended the gravity of the situation and sought assistance.
The death of Katanga has sent shockwaves through the influential families of the greater Ankole sub-region, a place closely tied to President Yoweri Museveni. He met his demise on the night of November 1, a single gunshot ringing out in the privacy of his bedroom following a heated argument with Molly. The tensions run deep, and the questions loom even larger.
CONFLICTING THEORIES
New and harrowing details have surfaced surrounding the tragic shooting of Mbuya businessman Henry Katanga. Katanga met an untimely demise after two bullets from a pistol gun struck the side of his head through the ear, leading to instant death.
Molly Katanga, who is suspected of involvement, currently lies in the ICU at IHK in Namuwongo, a suburb of Kampala.
Details have emerged about the lead-up to the fatal confrontation and the subsequent shooting. During a mournful gathering in Rubindi, Katanga's sister disclosed that her brother had previously confided in her about the perceived danger Molly posed. The exact reason for this warning remains unclear.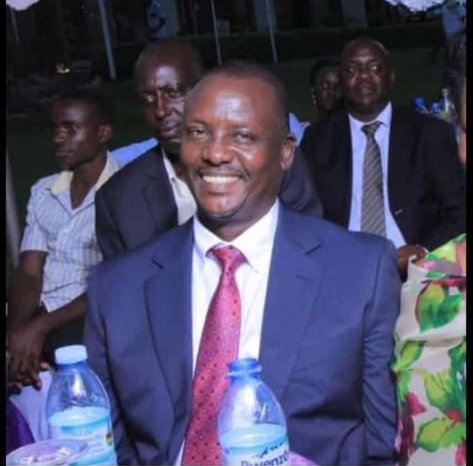 She went on to recount how Katanga believed he was being tracked and followed, necessitating a safe for his phone, which he could only use when away from his home. Katanga kept his belongings in a secure location and gave his sister a key, emphasizing that "these people want to kill me." The motives behind this perceived threat remain unknown.
Theories regarding his death are rampant; some claim Molly pulled the trigger, while others whisper of suicide while new finferpointing is focused on his own daighter. Yet, this case is far from ordinary, as the Katangas have managed to keep the world at bay. There are no photos, no footage, not even a glimpse of the crime scene – a rarity in a murder investigation.
Henry and Molly, a power couple influencing business deals in the shadowy world of security, were part of President Museveni's trusted inner circle. This connection has caused the police to tread lightly, avoiding the term "murder."
In the shadows, some of Henry's close relatives, including Agriculture state minister Bright Rwamirama and minister of state for Internal Affairs, Gen David Muhoozi, want Molly to face justice. But other generals and state enforcers, their allegiances concealed, aim to protect her for the time being.
It is said first responders to the scene found Molly unconscious, whisking her away to the secrecy of IHK hospital. The hospital management, locked in a vault of silence, refused to reveal any details.
"Brace yourselves for Uwera Nsenga part two because both sides are powerful and well-connected," whispered an anonymous police source, hinting at a storm brewing beneath the surface.
Jacqueline Uwera Nsenga was on September 23, 2014 convicted and sentenced to 20 years in prison for the murder of her husband Juvenal Nsenga. They had been married for 10 years. And their marriage oscillated between harmony and toxic. Uwera drove over the husband at their residence in Bugolobi, an upmarket residential area.
As investigators delve into Katanga's demise, they grapple with a crime scene steeped in tampering, obscuring the truth behind the motives that led to the businessman's death.
He was discovered lifeless, a pool of blood surrounding his lifeless body, a gunshot wound to his head. Beside him, Molly lay unconscious, it is reported.
With both parties wielding immense influence in security circles, the investigators face a daunting task. As they navigate through this treacherous maze, they must satisfy the expectations of both families, each with its own version of events. Henry's family yearns for a murder investigation with indisputable evidence, while Molly's kin spin a narrative of suicide.
In this dense fog of uncertainty, investigators struggle to unearth a motive. The heart of the matter remains elusive, hidden behind the veil of domestic violence and tragedy. An altercation erupted in the couple's bedroom in Mbuya on that fateful November 1 night, but the spark that ignited the inferno remains a mystery.
Some sources claim that Molly, consumed by rage, drew a pistol and shot her husband in the head after a violent quarrel.
But other relatives dispute this account, insisting that Henry assaulted Molly, leading to her unconsciousness. Believing he had killed her, he turned the weapon on himself.
Forensic experts, however, raise questions about the location of the gunshot wound on Henry's head.
In the house that night were their daughter and a houseboy, accompanied by armed guards. A loud bang rattled their senses, leading them to the bedroom in a state of panic. Now, they too have become persons of interest, the first witnesses to a crime scene steeped in uncertainty.
Forensic experts, tasked with finding the truth amidst a muddled crime scene, search for answers. The fingerprints discovered do not yet offer a conclusive narrative; they may be the result of concerned individuals rushing to the scene.
Among the questions that haunt the investigators is the identity of those who tampered with the crime scene, and whether it was an intentional act. There is enough evidence to suggest a cover-up, with the houseboy apparently acting under the orders of a key suspect.
In a city where connections and secrets run deeper than the Nile, the enigma of Henry Katanga's death is far from solved. The police dance on the precipice, carefully evading the media's probing eyes, as the hidden forces at play threaten to expose a truth too dangerous to unveil.
WHO WAS HENRY KATANGA?
Henry is an Ankole prince and hails from Kariro, Rubindi sub-county, Mbarara district. He is one of the nine children born to late Katanga and Miriel Kyobuhooro who is still alive. He belongs to the Bahinda royal family of Ankole.
The family patriarch was a brother to former Ankole Omugabe Sir Charles Gasyonga II. His brothers James Katanga, Ntomi Katanga and Arthur Kasasira [who was part of the original NRA 41 who attacked Kabamba and bodyguard to Museveni during the UNLF days], were part of the NRM guerilla war.
James and Ntomi died before NRA took power while Kasasira died just a few years into President Museveni's reign. According to reliable sources, government compensated the Katanga family for the loss of the three sons with monetary resources and business deals which they have consolidated to this day.
A sister to Henry, Naome Kashushani, was married to the late Maj Gen Francis Nyangweso. This perhaps explains why some of Henry's biggest business dealings in logistical equipment were with highly sensitive entities such as the UPDF, State House and the ministry of Defence.
At the time of his death, Henry had relocated to Kikatsi sub-county in Kiruhura district. Both Henry and Molly have been running Merge Ltd, a procurement and supplies company, that is doing business with State House, SFC, ministries of Defence and Agriculture, Uganda Civil Aviation Authority, Uganda Revenue Authority (URA) and World Food Programme, among others.
Incidentally, with Henry dead, only Naome remains alive of the nine siblings.
#henrykatanga