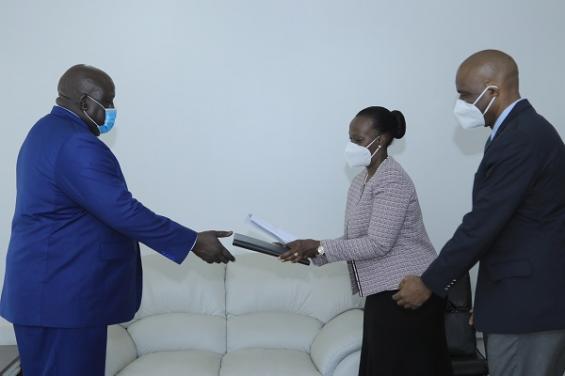 By DailyNewsUG Correspondent,
Ms. Ishta Asiimwe Kutesa Muganga, the daughter to Foreign Affairs Minister Sam Kutesa has been appointed as Uganda's first-ever envoy to Israel.
Asiimwe was appointed last month by Israel's foreign minister Gabi Ashkenazi in May but she only submitted her credentials to the Minister of State for International Affairs  Okello Oryem yesterday.
Ishta Asiimwe, the newly appointed Honorary Consul of the Israel to Uganda presented her credentials to Minister of State for International Cooperation Henry Okello Oryem.
Ishta, the daughter of Foreign Affairs Minister Sam Kutesa is a businesswoman married to Albert Muganga and was appointed to the position by Israel Minister of Foreign Affairs, Gabi Ashkenazi on 24 May to steer the country's diplomatic and trade relations in Uganda.
She handed over qualifications on Tuesday at Foreign Affairs Ministry in Kampala.
Minister Oryem asked Ishta to explore further areas of promoting the existing good bilateral relationship between Uganda and Israel.
Oryem defended the choice of Ishta saying she had been appointed on the strength of her profile and high integrity levels.
The Minister further explained that the Israelis did plenty of due diligence and found that Ishta passes the fit and proper person test for the job.
Ishta pledged to continue strengthening the relationship between the two countries not only in the existing areas such as Health, Education, Economic and Cultural sectors, but to also explore new opportunities.
The sides exchanged views on the current state of relations between Israel and Uganda.
In February, President Yoweri Museveni and Israeli Prime Minister Benjamin Netanyahu held a press conference in which the Israel leader said he his country was considering opening an embassy in Kampala. And likewise, Museveni said Uganda is "studying" the possibility of opening an embassy in Jerusalem.
Oryem implored Asiimwe to continue building the good bilateral relationship between Uganda and Israel.
Her appointment comes only a few months after Benjamin Netanyahu's meeting with the President at State House whereupon the two leaders discussed possibilities of establishing an embassy in Jerusalem."
The Israel Prime Minister made the requested which Museveni said he would put into consideration.
List of diplomatic missions of Israel in Africa
Angola, Luanda (Embassy)
Cameroon, Yaoundé (Embassy)
Egypt, Cairo (Embassy)
Eritrea, Asmara (Embassy)
Ethiopia, Addis Ababa (Embassy)
Ghana, Accra (Embassy)
Ivory Coast, Abidjan (Embassy)
Kenya, Nairobi (Embassy)
Nigeria, Abuja (Embassy)
Rwanda, Kigali (Embassy)
Senegal, Dakar (Embassy)
South Africa, Pretoria (Embassy)
#DailyNewsUG #IshtaKuteesa