By DailyNewsUG Correspondent,
The COVID-19 pandemic has resulted in huge financial pressures on Radio stations across the country with little or no revenue from advertisers, the main source of income for the broadcasters.
Several businesses have come to a standstill since the lockdown which started in March. The absence of advertisers, and sponsors for programmes and talkshows hosted by the radio stations means that they can nolonger make enough money to sustain their wage bill and other running costs.
At Radio Pacis in West Nile, a Catholic founded radio, local revenues have reduced almost by half. The station representative Gaetano Apamaku said that program sponsorships have drastically fallen
James Bagyenzi from Hope Radio in Kabale, says some staff have unfortunately been laid off, especially the presenters and this is because of the hard times.
According to Dick Nvule, an Editor at Radio Simba in Kampala says that the selection of essential and non essential staff has resulted in rifts and evoked suspicion among the staffs who advised to stay home.
Gilbert Matsiko, the station manager of Mountains of the Moon FM in Fort Portal says they asked some of their staff and volunteers who stay far away from the radio station to stay home.
From Northern Uganda ,Jackie Adure, the News Editor of Speak FM in Gulu says that the station revenues from adverts, announcements and sponsorships have drastically dropped.
At Karamoja FM located in Kotido, things are a little different , possibly because it is the only radio station in the district.
ENTER 88.2 SANYU FM: Fat Boy and several Sanyu FM staff, who went on strike despite the pleas from station management have been replaced from the flagship radio station after management questioned why they should continue taking home hefty salaries despite failing to hit targets in the months of March, April and May 2020.
Sanyu FM top management convened a meeting on Thursday to quiz James, popularly known as Fat Boy, and other radio staff over their failure to hit more than 50 per cent of the revenue targets that were set for the radio station last. It is reported the staff flatly rejected the offer but instead chose to go on strike.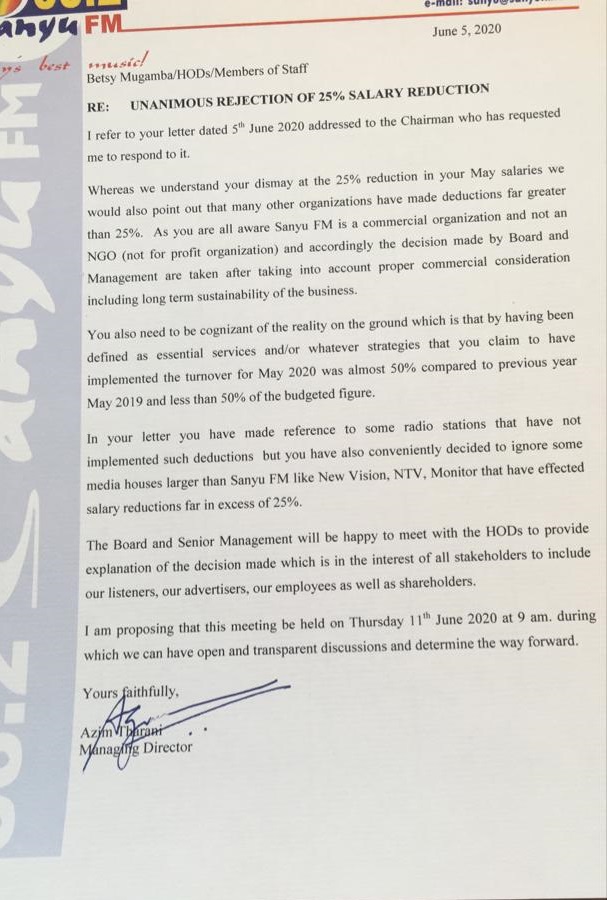 However, Fat Boy led his fellow staff in shunning the meeting, and rather declared a sit-down strike, rejecting several pleas to resolve the matter amicably.
Sanyu FM management explained to Fat Boy and the other striking staff that it was prudent to hold a meeting to discuss a way forward since the station's failure to hit the 2019 targets had been exacerbated by the lockdowns due to the #Covid-19 pandemic.
Fat Boy and the other radio were, however, adamant and they flatly refused to have talks with their employer in order to amicably resolve the issue, effectively firing themselves from the top radio station.
As news of Fat Boy's leaving started trickling in, radio enthusiasts analysed that his leaving is a blessing for Sanyu FM as it offers the station a chance to do away with stale and monotonous presenters, and bring in refreshed radio crews.
As one of Uganda's oldest private radio station,88.2 Sanyu FM controls a big listenership and, according to several surverys,is Kampala's most listened to radio station for the critical age-bracket of the youth.
And the station did not take long to find a dynamic replacement for Fat Boy, as top city comedian Patrick Salvador, who operates under the stage name Man from Ombokolo, will make his debut on the Sanyu Breakfast Show tomorrow morning.
Founded in 1993 by the Katto family, Sanyu Fm is the oldest surviving privately owned radio station. Sanyu FM targets the 18-35 year old age group, or the ABC1-C2 socio-economic class with a brand promise offering "Today' Best Music".
This would not be the first time the station is hit and survives a massive start walkout. In 1996, there was a massive staff exodus that saw presenters like Rasta Rob, Christine Mawadri, Gloria Kamba, Samson Bill and RS Elvis all quit the station.
Fresh blood that included the likes of Nash Kiwanuka, John Miles, Allan Kasujja, Ragga Dee and Emperor Orlando join the station to fill the void.
Globally on Radio: Here are a collection of layoffs, furloughs, and closures caused by the coronavirus' critical blow to the economy and journalism around the world
#DailyNewsUG UPDATES