By DailyNewsUG Correspondent
Chimpanzee Sanctuary & Wildlife Conservation Trust (Chimpanzee Trust) at Ngamba Island (Chimpanzee Sanctuary) this month May 2020 run a Donation Request triggered by the COVID 19 Pandemic.
"We call upon everyone to support us during this trying time of COVID19 pandemic that has affected the operations of Ngamba Island Chimpanzee Sanctuary".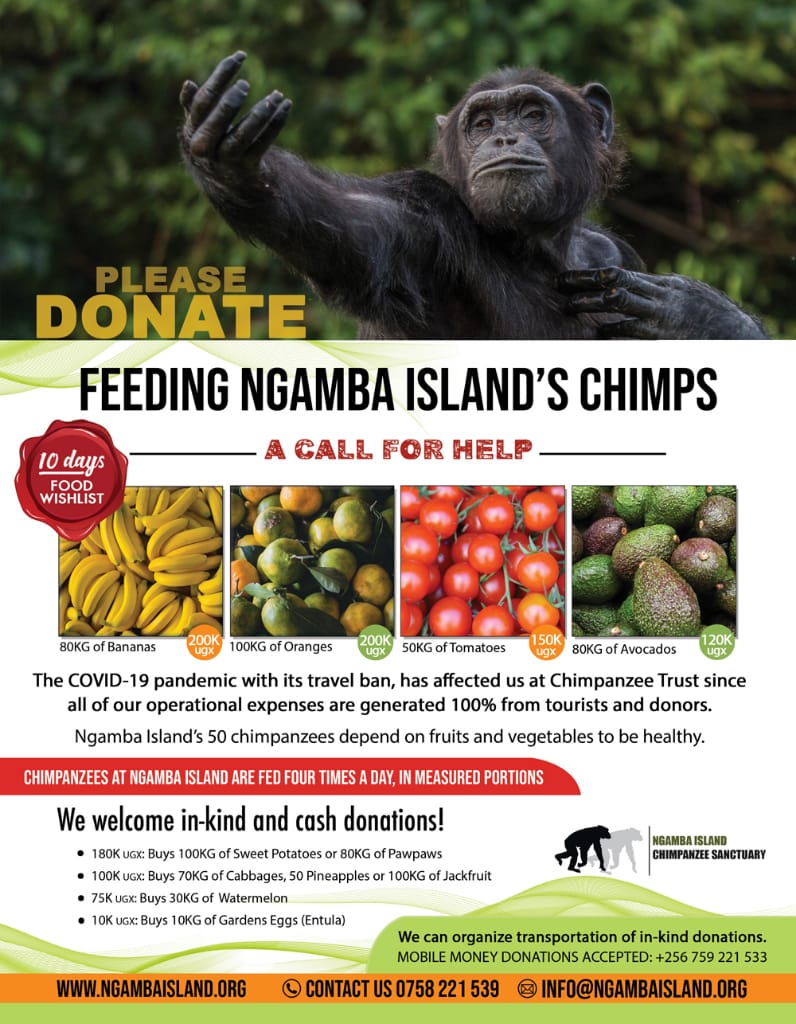 The operations of Ngamba Island have been dependent on 70% of tourist revenue which is at a standstill in the entire world with travel bans in different continents.
This has left Ngamba Island Chimpanzee Sanctuary with limited income to further the operations of the sanctuary and have requested for support to Ngamba Island Chimpanzees.
"We can't do this alone but we believe together we shall be able to save and protect this endangered species in our care. You can support us through in kind donations that can be delivered to our office in Entebbe – Uganda or cash contribution can be either through mobile money , Visa, Master card, American Express … "
In response to this request Ruparelia Foundation has donated UGX10 million to feed starving Ngamba Island chimps. The UGX10 million Cheque was handed over by Valentina Ajay, a Ruparelia Foundation Executive.
The Ngamba Island Chimpanzee Sanctuary is home to 49 orphaned chimpanzees rescued from across East Africa and is run by the Chimpanzee by Sanctuary and Wildlife Conservation Trust (Chimpanzee Trust), an NGO.
Last week the Trust made an SOS call to well-wishers to come to the aid of the Ngamba Island chimps home which other than being flooded by the rising levels of water on Lake Victoria, has been starved of any tourist revenue due to Covid-19 travel restrictions.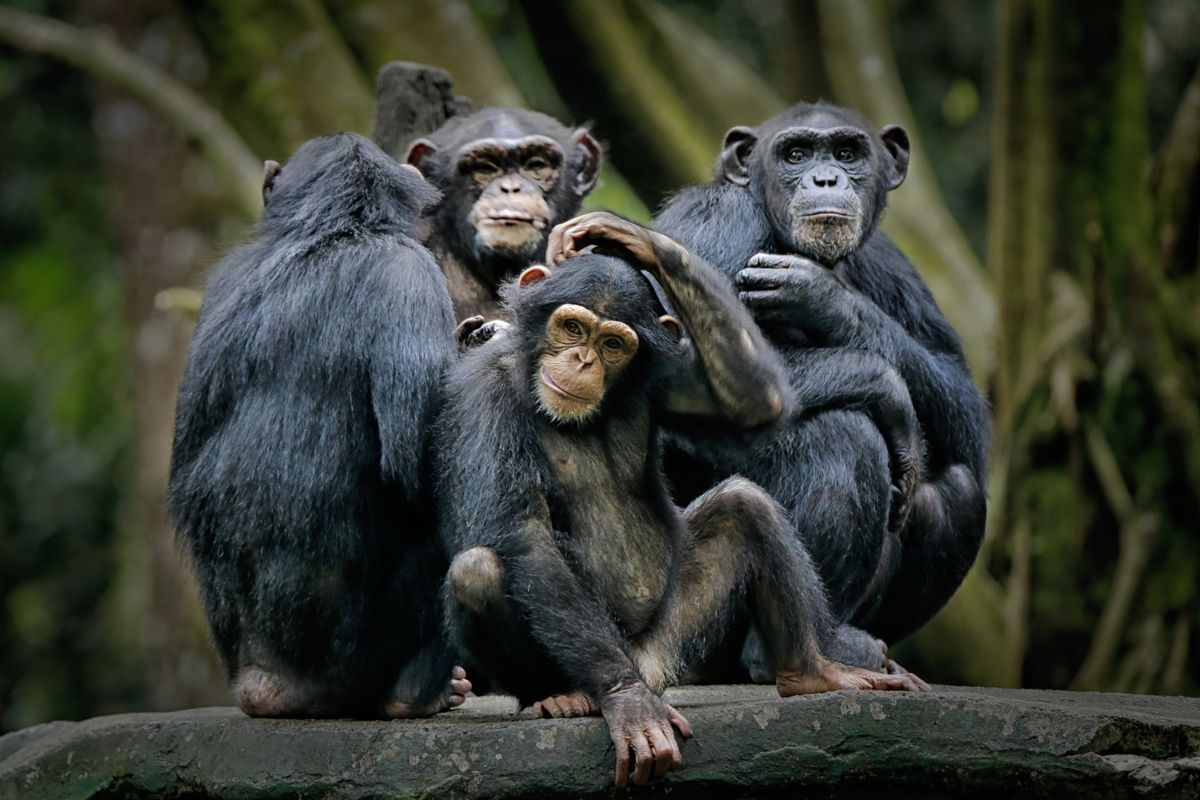 Before Covid-19 the chimps sanctuary used to host about 6,000 international tourists which would earn them about $300,000 (about Shs1 billion) in a year. With the rising water levels and Covid-19 travel restrictions to domestic and international tourism all that is gone.
A large portion of the Ngamba Island Sanctuary is flooded, cutting off visitors and threatening the livelihoods of the animals.
Accepting the donation, Dr. Joshua Rukundo, the Trust's Executive Director thanked Dr. Sudhir Ruparelia, the Foundation's Founder and co-director, for his continued generosity to animal welfare in Uganda.
"On behalf of the management of Chimpanzee Sanctuary & Wildlife Conservation Trust (Chimpanzee Trust) and my behalf, we would like to acknowledge and send our sincere appreciation for your generous contribution of UGX 10,000,000 (ten million shillings) towards the feeding of the chimpanzees on Ngamba Island Chimpanzee Sanctuary. These funds will go a long way to ensuring the survival of the rescued and orphaned chimpanzees in our care, as we navigate the effects of lockdown brought about by the COVID-19 global pandemic. Your generosity and support is what motivates us to do what we do for the welfare and conservation survival of endangered species like the chimpanzee, man's closest relative," wrote Dr. Rukundo.
"On behalf of the Board of Trustees, management and staff and, the chimpanzees, I take this opportunity to thank you," he added.
Dr. Sudhir Ruparelia is already a guardian to Ruparelia, an orphaned chimp that he named after himself.
The Ruparelia's are avid animal lovers. In 2009, the family through Kabira Club sponsored Kabira a female Rhino named after one of their businesses from Kenya that was reintroduced at the Uganda Wildlife Education Centre and later transferred to the Zziwa Rhino & Wildlife Ranch.
With a vision to create a positive and transformative change in the community, Dr. Sudhir Ruparelia established Ruparelia Foundation in 2012 on a simple belief that we can achieve a lot when we work together. Basing on our catchphrase "Enriching Lives Together", for the past seven years the Foundation has worked together with several people championing positive change in different communities across Uganda.