By DailyNewsUG Correspondent,
Bulaimu Muwanga Kibirige, commonly known as BMK, a Ugandan Businessman, Owner of Africana Hotel and one of the wealthiest people in Uganda is not in very good health.
Word out is that the Tycoon flew out of Uganda in bad health condition.
BMK was flown on a chartered plane to Nairobi through Entebbe international airport, which for now closed to any passenger planes.
One needs a "special permit from above" to get any aircraft flying out of Entebbe and BMK secured himself one.
The hospital where he is receiving treatment is not yet known to us, but he is most likely to be at admitted to Agakhan hospital in Nairobi.
The businessman has in recent times been hospitalized several times. We pray for his quick recovery.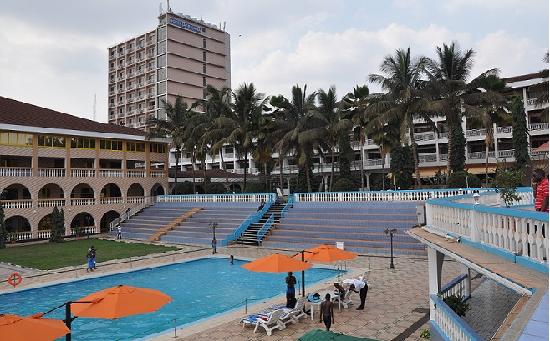 WHO IS BMK?
When it comes to transforming the transport sector in East Africa, especially countries like; Kenya, Tanzania, Rwanda and Zambia especially from bicycle to motor cycle business (Boda boda), his name needs no introduction.
On developing Hotel and tourism, sponsoring social, religious activities and helping the needy, still his name comes on top. He is none other than, Dr. Bulaim Muwanga Kibirige alias BMK, the chairperson of the Uganda Sickle Cell Association in Uganda.
Tycoon BMK was born in 1953, in Masaka District. At the age of 14, he had started working with his father in Masaka Town, dealing in merchandise and working at his hotel which he built in 1943.
The tycoon made his first step in Uganda's capital (Kampala) in 1972 and being an innovative, creative and intelligent youth, a year later, he started trading in merchandise from Kenya, bringing them to Uganda.
The business thrived on well and with the little profits he had gained, in 1976, the promising tycoon at the time continued to prove his business ambitions when he crossed the East African Borders and started trading with Hong Kong and Bangkok, respectively, dealing in garments and electrical appliances. In the 1980's, he became one of the leading garment dealers in Kenya.
Because his dream was to engage in a business that could earn him more profits, and also become one of the prominent tycoons in the Region dealing in several merchandise, in 1982, besides dealing in garment business, he joined the business of second hand vehicles, trading them from Japan.
"It was a jungle by the time I got this land where I built Hotel Africana but now the hotel has become a pride not only to me as an indigenous Ugandan, but also to all my fellow countrymen," said BMK.
He came into the limelight as one of the biggest investors in the region in 1986. This was after he had formed up the famous BMK Uganda Limited, a company which deals in used cars and their accessories from Japan (Transport business).
Furthermore, in 1987, his business acumen continued to rise as he became the first Ugandan to deal in used bicycles' business, trading them from Japan. Because he was born naturally shrewd, the tycoon later started importing in motor cycles (Bodaboda). These have since helped to transform the transport sector both in rural and urban areas within Uganda. The business has since spread to all the neighboring countries, and has also become one of the most fruitful employment opportunities especially to the youths in addition to easing transport.
In a bid to emulate his father's hotel business and keep the tradition within the family, in 1987, the tycoon acquired land where he built the famous hotel Africana, located along Wampewo Avenue in Kampala Business District.
"It was a jungle by the time I got this land where I built Hotel Africana but now the hotel has become a pride not only to me as an indigenous Ugandan, but also to all my fellow countrymen," said BMK.
As a man who believes in business expansion, in 1992, he set up BMK Tanzania opened MBK Kenya in 1994 before establishing BMK Zambia two years later. Rwanda became the latest African country to partake of the BMK business franchise when the tycoon set up BMK Rwanda in 2004.
BMK BUSINESS
Under BMK Group, the tycoon deals Motor Vehicles and their accessories, Heavy earth moving and lifting machinery. He has also invested in Schools, Hospitals, Real estate development and Commercial forestry.
"I would like to encourage parents to bring their children together and teach them the art of small businesses the same way my parents did to me. Creating job opportunities is far better than seeking for them. This is the reason I am working with my family alongside other employees (about 1000) whom I employ both directly and indirectly," the tycoon emphasized.
OTHER ROLES
Recently, BMK became one of the eminent personalities in Uganda who were conferred with honorary Doctorate of Philosophy in Humanities in the College of Christian Education Department at the United Graduate College and Seminary International at Kampala-Serena Hotel.
As the chairperson of the Uganda Sickle Cell Association, his role has been to sensitize the public about the disease, look for medicine and educate the public on how to handle sicklers. Besides, he has also worked on the Presidential Investments Round Table on Tourism, and is one of the founders of the Uganda Hotel Owners Association and was Chairman for ten years.