UN-EARTHED: Panicky Kasekende transfers properties into Driver's names as IGG pressure mounts
By DailyNewsUG Correspondent
DAILYNEWS UG |Kampala| Fresh evidence via a leaked document shows that Bank of Uganda (BoU) deputy governor Dr. Louis Kasekende transferred 12 plots of land into the names of his driver Moses Musitwa in an effort to dodge the scrutiny of the Inspector General of Government (IGG).
The transfer forms, dated January 31st 2018, show, Kasekende subdivided land located on Busiro Block 314 into 12 plots: 6090,6091,6092,6093,6094,6095,6096,6097,6098,6099,6100 and 6101 and proceeded to transfer them into Moses Musiitwa's names on the same day, for a reported consideration of just Shs3,000,000.
The IGG among other mechanisms used the Leadership Code Act 2002, to catch senior public officials who may have involved in corruption to grow wealth. The officials are required by the Act to declare their properties for purposes of accountability and transparency.
According to the document, Dr. Kasekende transferred the properties to the names of his driver on January 31, 2018.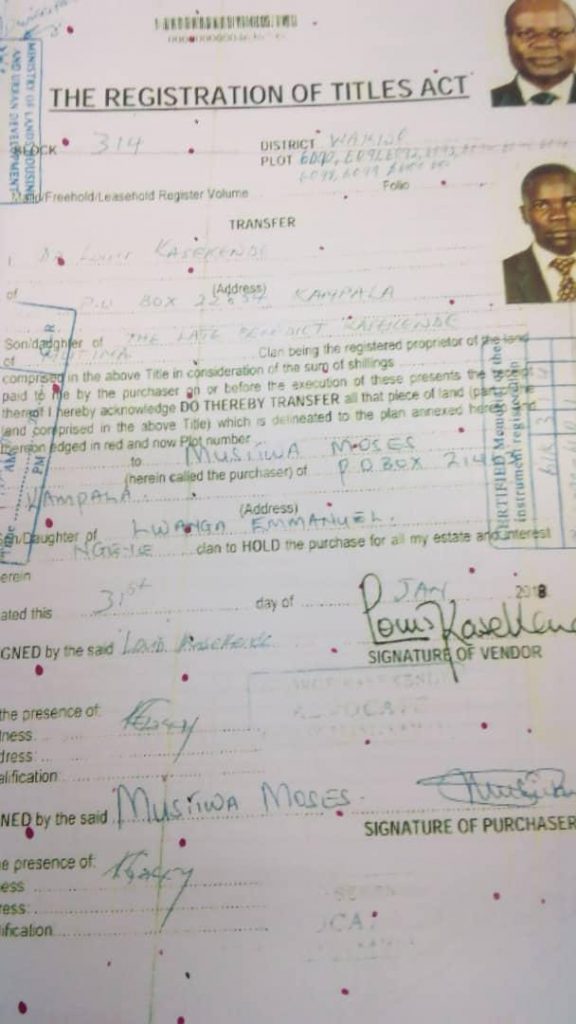 The decision to transfer the property to his driver and not his family members, could be to evade a requirement in the Leadership Code that requires him to declare his incomes, assets and liabilities as well as the names, incomes, assets and liabilities of spouses, children and dependents every two years.
The decision to 'underprice' (although it is less likely that he sold his property at that much) to just Shs3,000,000 could also have been an attempt to both reduce the 1% stamp duty payable on property transactions, but most importantly to evade Uganda Revenue Authority that requires all land buyers of properties above Shs50 million have a TIN number which would have made this transaction very suspicious to the probing eyes of tax investigators at URA.
The allegations, if true would effectively make Kasekende both a fraudster and tax evader.
This site reached out to Kasekende, but he neither confirmed nor denied the authenticity of our story; he chose not to respond instead.


The document says Kasekende has 35 properties in his names yet he only declared to IGG six properties.
The leaked documents show that much as Kasekende transferred the properties into names his driver Musitwa, there is no evidence to show that the deputy governor sold the plots to the latter.
The plots are located in Busiro on Block 314. They are plots No. 6090, 6091, 6092, 6093, 6094, 6095, 6096, 6097, 6098, 6099, 6100 and 6101. The plots range from 0.0450-0.0590 hectares.
However, sources dealing with this matter say nil value of properties was indicated on the transfer form from, raising questions how the properties could be registered with such anomaly.
On the consent to transfer form dated February 1, 2018 indicates that a consideration of Shs3 million was indicated as the value for all the 12 properties.
The document also shows Kasekende owns seven plots of land in; Makindu Lane, Buloba (4 plots), Bokoto Rise and Lower Naguru East Road. The document also shows his brother Herman Kasekende also owns six plots in Nama, Birongo, Lukuli (2 plots), Munyonyo and Kisugu.


It further shows other individuals also owning land; Martin Kasekende with land in Kiruddu, Kyambogo View Street. It also shows Harriet L. Kasekende owning plot 990 Kiwatule, Mengo, George Kasekende with land at Mpererwe, Barbara Kahubire also has at Munyonyo. The document also shows businessman Karim Hirj on plot 990 at Munyonyo.
Recently Eagle Online published an article on properties that Kasekende did not declare to the IGG.
The plots Kasekende that were never declared are; Plot 38 (0.157 hectares) in Lower Naguru on East road worth Shs1.280 billion, Plot 1423 on block 314 in Buloba worth Shs432 million.
Others whose value is not quoted are; Plot 1738 (0.809 hectares), Plot 3213 (0.079 hectares), plot 1427 (3.647 hectares), plot 184 (2.7 hectares), plot 1754 (1.624 hectares) and plot 6102 (0.317 hectares). All the plots are on block 314 in Buloba.
Meanwhile Kasekende was able to declare five properties. They include; Plot 2A (0.142 Hectares) in Makindu worth Shs3.6 billion, Plot 2 (0.22 Hectares) on Bukoto Rise worth Shs2.7 billion, Block 314, plot 706, Plot 1475 Lubowa Estate worth Shs3.6 billion and Plot 12 on Corporation Road Ntinda.