Saudi suspect in Journalist Khashoggi 'murder' 'dies in car accident': Multiple News Sources
By Our Foreign Correspondent
DailyNewsUG
A Turkish newspaper reported on Oct. 18 that one of the suspects involved in the disappearance of Saudi writer  Jamal Khashoggi died in a "suspicious car accident" in Riyadh.
Mashal Saad al-Bostani, a 31-year-old lieutenant of the Saudi Royal Air Forces, was among the 15 suspects who arrived and left Turkey on Oct. 2 after going to Saudi Arabia's Istanbul consulate when Khashoggi visited there, according to daily Yeni Şafak.
The newspaper said sources did not release any details about the traffic accident in Riyadh and Bostani's role in the "murder" was not yet clear.
Daily Hürriyet columnist Abdulkadir Selvi claimed on Oct. 18 that Saudi Arabia's Istanbul consul Mohammad al-Otaibi could be "the next execution" as Crown Prince Mohammad bin Salman "would do anything to get rid of evidence."
Turkish daily Yeni Şafak reported Oct. 17 that Al-Otaibi's voice could be heard in one of the recordings, which Turkish authorities are believed to have, of Khashoggi's "interrogation" at the consulate.
According to the report, after Al-Otaibi told the interrogators to "do it somewhere else outside or I will be in trouble," he was told to "shut up if you want to live when you are back in Saudi Arabia."
Al-Otaibi returned to Saudi Arabia on Oct. 16 before his residence in Istanbul was searched by police for more than eight hours on Oct. 17 and Oct. 18.
Meanwhile, Sabah newspaper released stills from security camera footage of another suspect on Oct. 18.
According to the report, 47-year-old Maher Abdulaziz M. Mutreb, an intelligence officer who previously served at Saudi Arabia's London embassy, landed in Istanbul at 3:38 a.m. on Oct. 2 and went to his country's Istanbul consulate at 9:55 a.m.

Above: Maher Abdulaziz M. Mutreb
Hours after Khashoggi's arrival and disappearance, Mutreb left the consulate and visited the consul's residence at 4:53 p.m., left his hotel at 5:15 p.m. and arrived at the Atatürk Airport for his return trip on a private jet at 5:58 p.m.The New York Times had reported on Oct. 16 that Mutreb had travelled extensively with the crown prince, perhaps as a bodyguard.
According to Yeni Safak, a pro-government daily, investigators will be searching for Khashoggi's remains in the Belgrade forest north of Istanbul and a farm house in neighboring Yalova. Termal, a spa district, is a popular destination for Arab tourists, Hurriyet said.
Above: Maher Abdulaziz M. Mutreb CIRCLED
Meanwhile, according to Yeni Safak, Mashal Saad al Bostani, 31, a lieutenant in the Saudi Air Force and one of the 15 Saudis in the "hit squad," as the Turks put it, died in a "suspicious car accident" in Riyadh.
Al Bostani had been recorded flying into Turkey Oct. 2, arriving at 1:45 a.m. He checked into a hotel close to the Saudi mission in the Levent business district of Istanbul, and was inside the consulate when Khashoggi arrived. He then flew off at 9:46 p.m. that night. The newspaper gave no further details.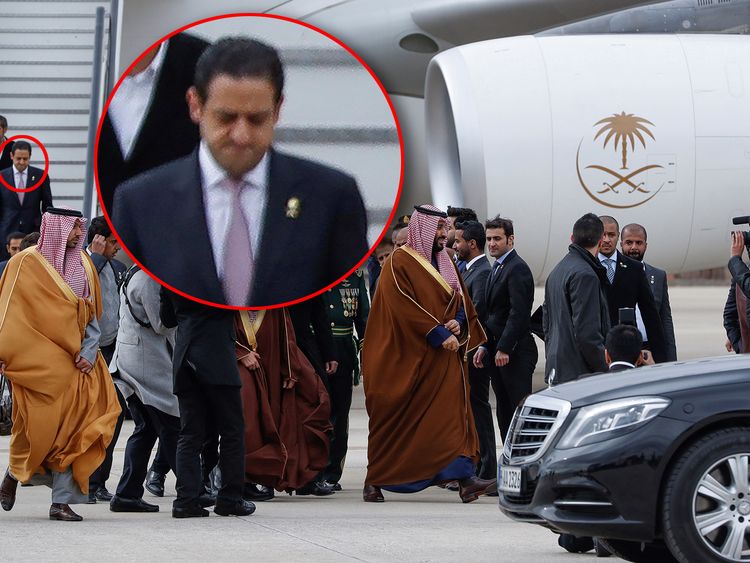 Above: Maher Abdulaziz M. Mutreb
Hurriyet columnist Abdulkader Selvi predicted that Consul al-Otaibi would be the "next execution." He charged that Saudi Crown Prince Mohammad bin Salman "would do anything to get rid of the evidence."
In recordings reportedly obtained by Turkish police from inside the consulate on Oct. 2, al Otaibi is heard saying: "Do it somewhere else outside, or I will be in trouble."  Another voice is then heard telling him: "Shut up if you want to live when you're back in Saudi Arabia."
Although the authorities have not publicly confirmed the existence of this or other recordings, they have not challenged their authenticity.
Still, the most salient sign of a possible cover-up is the refusal to provide access. Saudi Crown Prince Mohammed bin Salman told Bloomberg news just days after Khashoggi's disappearance that Turkish police could have access to the consulate.
But in fact they weren't allowed to enter until this past Tuesday, according to the prosecutor's statement Thursday. They entered at about 4 p.m., but to the intense annoyance of Turkish officials, were not allowed into the residence until the following day.
"Unfortunately, the search of the residence did not happen last night," Foreign Minister Mevlut Cavusoglu told reporters in Ankara after talks with U.S. Secretary of State Mike Pompeo Wednesday. "The Saudis claim that his [al-Otaibi's] family was inside," he said.
The search of the residence began Wednesday shortly before 5 p.m. and lasted nine hours. Afterwards, police went back to the consulate.
There was no official word on what they turned up. But Abdulhamit Gul, the Turkish justice minister, said Thursday that police are investigating "deeply, successfully," and the results will come out "soon."