Precious Priscilla Namuli is Miss Victoria University Kampala 2018.
By DailyNewsUg Correspondent
DAILYNEWSUG Precious Priscilla Namuli is Miss Victoria University 2018.
After the hot contest last Saturday at Kabira Country club, six determined finalists put forward their best looks, presentations and answers, after which Namuli reigned supreme.
Namuli, who is in her first year (Nursing), said: "The theme of the event 'Superwoman, The Future Is Female' helped me a lot. I strongly believed in it and believed that I could encourage other girls."
 "All my fellow contestants had the model bodies, but again, this wasn't about size or beauty; this was about brains and confidence!" Namuli said. "I am going to encourage girls to work hard and tirelessly for their dreams."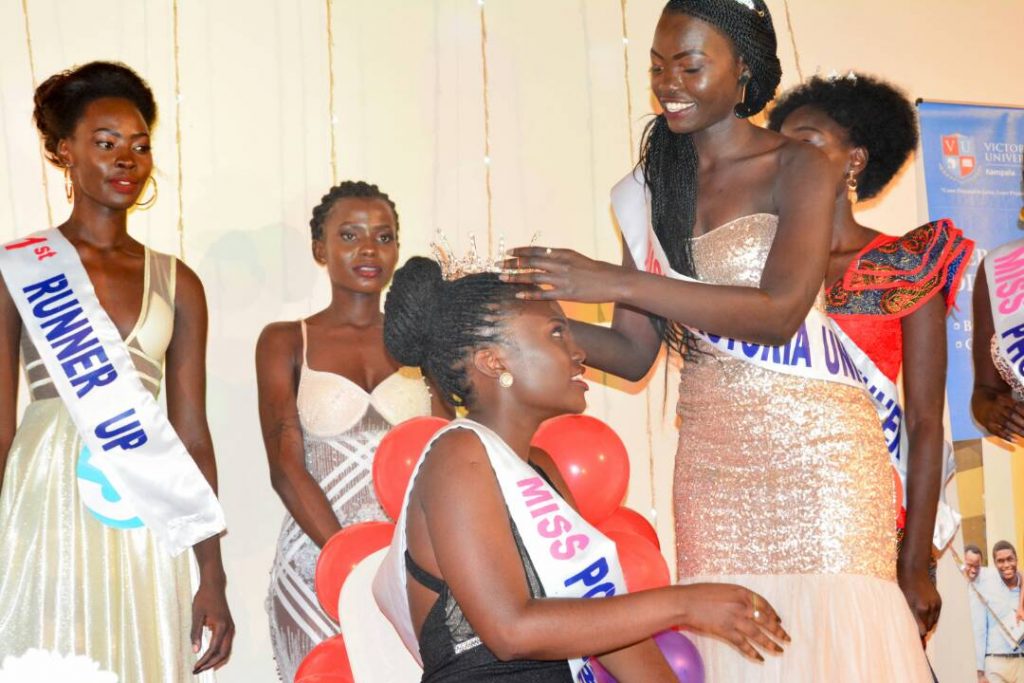 The MC of the night introduced the girls by their names, courses and nationality. Of the six girls, there was one from South Sudan and DR Congo. They would later in the night showcase cultural wear and explain their cultures.
In the first question and answer session, the girls were asked question to determine how well they knew their University. And they indeed know their school in and out, including its history. They never disappointed.
At the end of the day, Namuli Precious Priscilla, a foundation course student, emerged the overall winner. She was also voted Miss Popularity by fellow students. She won a cash prize of Shs500, 000 and gift hampers from the University and the event's sponsor.
The first runner up was Akuol Zakaria Deng, a foundation course student ahead of Napeyok Joan, studying Bachelors of Tourism and Hotel Management, who came third. Akuol went home Shs300, 000 richer while Napeyok bagged Shs200, 000.
The two also got gift hamper from the University and Radiant. Kansiime Merriele emerged as Miss Congeniality; Bingi Elsie Nina was named Miss Culture while Meima James Alexander was Miss Photogenic.
Miss Uganda 2014- Leah Kalanguka, Miss Uganda 2008 – 1st runner up Miss Diana Kahunde, Professor Lawoko, Dean of health sciences Victoria University were the judges of the day.
Miss IUEA University, Miss St. Lawrence University, Guild members from Cavendish University, Kampala International University attended the event as invited delegates. They were entertained by musicians Mark Wamono, a vocalist and 1der Jr, a rapper.
About Victoria University
Victoria University, which is one of the leading universities in Uganda, stands out as a centre of academic excellence. It offers a fresh and intellectually stimulating environment. Its subject–based instructions nurture critical thinkers.
Victoria University Kampala is a cosmopolitan University with a diversity of nationalities: Ugandan, Kenyan, Middle Eastern, Gambian, Ghanaian, Seychelles, Tanzanian, Congolese,  Indian,  Rwandese, Burundi,  Cameroonian, Lebanese,  Ethiopian,  Eritrean, Somali, South African and Nigerian.
With a well established reputation as the best private, forward thinking, modern university in East Africa, Victoria University offers a vibrant and stimulating environment to further your studies.
VICTORIA UNIVERSITY KAMPALA AUGUST-SEPTEMBER 2018 IN-TAKE IS OPEN
Contact the admissions office for enrollment at admissions@vu.ac.ug OR marketing@vu.ac.ug or call Tel: (+256) 417 727 000, or Visit Victoria University at Victoria Towers, Plot 1-13, Jinja Road