Noose tightens around Sam Kutesa's neck as US Court Convicts his "Criminal Accomplice"
By DailyNewsUG Foreign Correspondent
DAILYNEWS UG |New York, New York|
Former Hong Kong Home Affairs minister Patrick Ho Chi-ping has been found guilty by the federal court in USA of offering millions of bribes to several African leaders including Ugandan and Chadian presidents.
Ho was convicted for offering a $500,000 bribe to Uganda President Yoweri Museveni, $500,000 to Uganda Foreign Affairs minister Sam Kutesa and $2 million to Chad's President Idriss Deby. Ho was found guilty after a one-week trial before US district judge Loretta A. Preska in the Southern District of New York of one count of conspiring to violate the Foreign Corrupt Practices Act (FCPA), four counts of violating the FCPA, one count of conspiring to commit international money laundering and one count of committing international money laundering.
Last  week on  day two of Chi Ping Patrick Ho's trial for allegedly bribing Chad's President Idriss Deby $2 million in cash stuffed in gift boxes to get oil blocks rights and for bribing President Yoweri Museveni and his Foreign minister Sam Kutesa $500,000 each, jurors were shown Kutesa's and another Ugandan aide's photos on a courtroom projector.
Testifying  was Vuk Jeremic, former foreign minister of Serbia and a former President of the United Nations General Assembly (PGA). He served in 2012 and  was succeeded by the late John Ashe; Kutesa assumed the post after Ashe.
The USA alleges that Kutesa's 500,000 was wired from a New York-based bank to an account in Uganda for a fake charity, adding money laundering to the bribe charges against Ho. Gen. Museveni's alleged $500,000, in cash, was wrapped in gift boxes Mafia-style and delivered by Ho to Uganda when President Museveni invited him to his 2016 swearing in.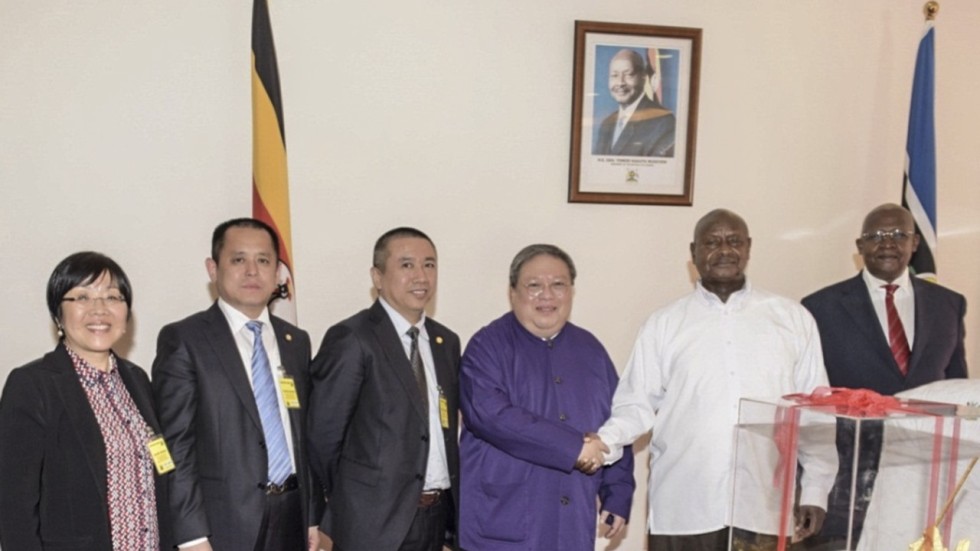 The total $1m bribe to Museveni and Kutesa was in a bid to secure business dealings in railway services, infrastructure construction, fishing, hydro-energy, banking and finance as well as tourism for the Chinese conglomerate CEFC China Energy Co. Other potential deals for CEFC included; construction of a Chinatown to boost tourism on land near L.Victoria and possibly an island.
CEFC also offered profit-sharing through a partnership with the Museveni and Kutesa family businesses. Museveni's $500,000 bribe termed as "campaign donation" was delivered in May 2016 ahead of Museveni's swearing in at Kololo ceremonial grounds, never mind that the controversial elections had already been held in February.
Before leaving for Uganda and delivering Museveni's bribe, Ho asked Kutesa for help with the customs officials in regards to Museveni's bribe that was delivered in gift boxes, court heard.
Ho stated in an email also copied Kutesa's wife Edith, "As we are about to board the plan[e] to Uganda, we are preparing to bring with us some very 'nice' gifts to your President and to [the Ugandan Foreign minister] to celebrate the occasion. We shall require special assistance with your customs procedure. Please assist in whatever way you can otherwise we will have to make other plans."
Kutesa's $500,000 bribe was paid via a wire transfer from HSBC bank in Hong Kong (China) through an intermediary HSBC bank (USA) to Stannic bank in Uganda on May 6, 2016.
Ho's Uganda-bribery scheme was hatched in 2014 from the time when Kutesa was president of the UN General Assembly.
Court heard that so successful was Ho's meeting with President Museveni, that he wrote to CEFC chairman Ye (who also worked as a special advisor to Kutesa during his time at UN) that Museveni was willing to undo already completed bids in oil blocks in order to award the concessions to CEFC.
As for the Chad bribery scheme in which $2m was paid to President Deby, it was aimed at securing oil deals in the poor West African nation. 69-year-old Ho will be sentenced on March 14 and faces up to 65 years in prison. He was found guilty on seven of eight counts of bribery and money laundering by 12 jurors (nine women and 3 men).
"Patrick Ho now stands convicted of scheming to pay millions in bribes to foreign leaders in Chad and Uganda, all as part of his efforts to corruptly secure unfair business advantages for a multibillion-dollar Chinese energy company," said US attorney Geoffrey Berman.
"As the jury's verdict makes clear, Ho's repeated attempts to corrupt foreign leaders were not business as usual, but criminal efforts to undermine the fairness of international markets and erode the public's faith in its leaders."
The conviction of Ho comes just days after Museveni was given a corruption fight award at the 25th anniversary celebrations of Transparency International, Uganda Chapter in recognition of his efforts to fight against corruption.
At the ceremony Museveni told the gathering that his own father was corrupt Mzee Amos Kaguta was corrupt because he had in possession at his home government branded veterinary medicines. Museveni said his fight against corruption had been frustrated by the people in civil service and politicians, who despite their good pay still steal public resources. He said on December 10, he "will announce new measures in our renewed fight against corruption. That said, there is corruption in Uganda. It stems from the colonial times."
"We also made the mistake of assuming that elected leaders would diligently serve in their people's interests. We gave people power to elect leaders, who instead of offering oversight have joined the corrupt class," Museveni said.
Adding; "However, corruption will now be defeated. The corrupt civil servants have exposed themselves. The population is angry with them. Also, we now have more educated young people. The pool from which to pick the replacements for the corrupt civil servants has grown."