Mr. Jack Pemba, Man-of-the-Moment. There can only be one JP!
By DailyNews Gossip Correspondent,
Jack Pemba is one hell of a Guy. Love him, hate him, he is truly special in his own right. His litany of eye popping deeds and jaw-dropping feats, endeavors and exploits make him an un-usual and extra-ordinary individual.
Jack Pemba has all it takes to annoy millions of people. Jack Pemba has thousands of people asking google for more and more about Jack Pemba. Most bored souls just google him to catch up of his way-ward ways and some of hi super special endeavors and accomplishments.
Jack Pemba achieves all with money, not small moneys…..Big Money. And he has got loads of Cash. In Uganda we have come to learn that sources of Peoples Money is none-of-our-business. We have seen so many characters who come and go and we are tired and do not even want to know peoples source of money anymore.
The Man threw himself a Ugx 500,000,000 Birthday party in March 2017, a rare spectacle unseen in this country. The man works hard (from where-ever) and plays real hard.
He recently threw a Birthday for his special Woman Sheba Kassami whom he threw an ultra-exclusive birthday party this month with a Guest Performer in the names of the one and only Congolese rumba maestro Koffi Olomide popularly known as Le Grand Mopao, who reportedly pocketed USD$50,000.
If you are looking for scandal, Jack Pemba will give you scandal in full measure and exceed your expectations.
Jack Pemba passes as a kind hearted rich man. He has done sports philanthropy in Uganda, and says he runs similar ventures in Rwanda and Dubai.
Above: Sheeba Kassami has an unenviable task…. to control her man Jack Pemba. Almost an impossible feat
Pemba has a reckless sex life messed up a happy English family he got married into. Pemba married Victoria Chaplin about 15 years ago. The couple's wedding was fully funded by Victoria's family. Pemba was a broke man, having arrived in England from Tanzania to seek better pastures.
In England he met young Victoria, a middle class family white girl, who helped him get the British citizenship by marriage. Pemba has used maximally this citizenship to his advantage like we shall tell you in the subsequent posts.
Pemba and Victoria have had a rough last 15 years of their marriage, but the two have remained husband and wife, and they've been blessed with three children; Jack Junior the eldest, Gracie and Tia, the youngest.
Victoria's family opened its arms to Pemba who they regarded as a son until a few years into the marriage.
Pemba had started to meet people, telling them about his being involved in gold and diamond business. The claims made him meet especially footballers in UK, and we shall tell you that next time.
Whereas Pemba was actually a poor man living off the allowance the state offered to him as an unemployed British citizen with a young family, the ambitious man in him wanted to live another life. He wanted to be known as a millionaire minerals dealer, hobnobbing with the A listers.
So, he had to look that millionaire personality.
Having exhausted friends to tell his stories, around 2005, he hatched a plan. He wanted to tap into the savings of the family. He realized Victoria's mother, Mrs. Chaplin, was susceptible. Her husband was sickly, and her, dependant on alcohol. He started dedicating time to her, telling her how he was madly in love with her. Victoria's mother fell for him. The two flew to Las Vegas and had a fake marriage.
Jack convinced the mother in law that he would run away with her if she would agree to sell their house valued at £1.2 million, which would be money enough to keep them happy forever. Mrs. Chaplin fell for it. And in the midst of her drunken state, she signed off a sale agreement giving Jack Pemba access to the money he wanted.
That's how the Chaplin's lost a highly prized family home, which had been passed down for generations.
Fast Forward back to Uganda: Moneybags Jack Pemba has just bought a Shs620m Lexus, so it is clear money is not among his problems at the moment.
An arrest warrant was issued last week with tycoon Godfrey Kirumira demanding that Pemba pays back Shs1 billion for $200,000 (about Shs720m) that he borrowed from him and its arrears.
Pemba says he borrowed $200,000 from Kirumira and gave him his three prized cars jointly valued at over Shs1.2 billion as security.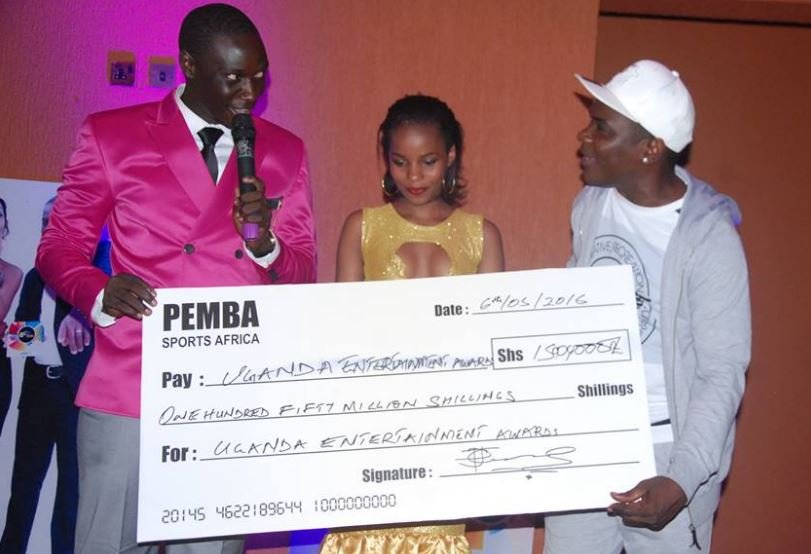 The cars included a Range Rover with customized license plates ONLY 1 JP, valued at $140,000 (about Shs513m), a brand new 2017 Landcruiser ZX 2017 model license plate "MR PEMBA" which Pemba had spent $175,000 (about Shs642m) and a Hummer H3 valued at $35,000 (about Shs128m).
One of the cars Pemba claims Kirumira spoilt.
Pemba says the cars were supposed to be parked in safe custody but Kirumira unfortunately drove his cars and also gave them to his children to drive.
"They depreciated in value, and that really annoyed me," Pemba said.
The Land Cruiser that was allegedly knocked.
It was reported last year that Kirumira was seen driving Pemba's "ONLY 1 JP" Range Rover to the Pearl of Africa Hotel. When Pemba read the news, he was upset because Kirumira hadn't stuck to the agreement.
In retaliation, Pemba said he would only pay Kirumira after selling the same cars, but the latter refused.
A range rover that Pemba says has depreciated
Sources close to the two tycoons reveal that Kirumira insisted on being paid given the fact that Pemba had bought a brand new Lexus valued at over Shs620m and flew in Congolese star Koffi Olomidde to perform at his wife Sheebah Kassami's birthday party at Sheraton Hotel.
This showed that he had money.
A cross Kirumira run to court to compel Pemba to repay him, but Pemba wonders why his cars that were supposed to be kept as security were driven.
Pemba adds that Kirumira also rented out the cars to weddings and crashed the Landcruiser.
Since the agreement between Pemba and Kirumira was a sales agreement, Pemba advises Kirumira to sell the cars instead of running to court.
More from Pemba Soon…… thats for sure.
Stay online with www.dailynews.co.ug