Lewis Hamilton wins Singapore Grand Prix to extend lead in F1 title race
By Our Sports Correspondent
DAILYNEWS UG
Briton takes championship lead to 40 points with victory
Max Verstappen finishes second with Sebastian Vettel third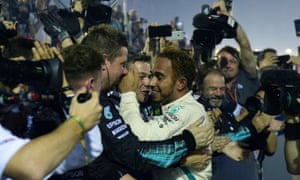 Lewis Hamilton won the Singapore Grand Prix with a strong run from pole position to increase his world championship lead over Ferrari's Sebastian Vettel. Vettel could manage only third place behind the Red Bull of Max Verstappen. Hamilton's win for Mercedes had looked against the odds when the weekend began but he leaves the Marina Bay circuit with a 40-point lead over Vettel.
Hamilton ran a controlled and dominant race from the front, with Mercedes managing his strategy superbly. Vettel had managed to challenge at the opening from third on the grid but Ferrari's tactics were costly and Red Bull took advantage with Verstappen who put in a fine performance for second place.
It is Hamilton's fourth win at the Singapore Grand Prix, equalling Vettel as the most successful driver at the race and the 69th of his career. Despite the Mercedes not being suited to the circuit they have now won here four out of five times in the turbo-hybrid era.
His seventh win of the season is two more than Vettel and in extending his title lead at a race where Mercedes has expected Ferarri to be on top, he leaves Singapore with what can be considered a remarkable result against the head. It was this sequence of races last season that proved crucial in securing his fourth title and he has placed himself on the front foot to once again close out the championship.
With the Ferrari exceptionally strong out of the 23 corners in Singapore they had enjoyed the quicker car all weekend until qualifying and the British driver and his team knew they would face a tough race day but managed Hamilton's run superbly to take the flag.
Hamilton made a perfect start to hold the lead through turn one but behind him Vettel had charged on Verstappen. The Dutchman just managed to hold him off but the German could not be denied and he made the pass for second through Raffles Boulevard. Vettel had made the move just before the safety car was deployed after Esteban Ocon was clipped into the wall by his teammate Sergio Pérez.
Racing resumed on lap five and Hamilton managed his restart with aplomb, holding his lead from the off. The front three remained tight, separated by less than two seconds during the opening period with Hamilton just over one second ahead of Vettel – all three managing their tyre usage with heavy fuel loads.
As the pit window opened Hamilton upped the pace and Vettel pitted on lap 15 to take the ultrasoft rubber looking for the undercut. The onus was on Hamilton to deny the German with a quick lap before covering off the stop and he did so. He took the soft tyres a lap later, going for a one-stop strategy and emerged solidly in front of Vettel.
Worse still for Vettel he had lost time stuck behind Perez which proved costly. Verstappen remained out until pitting for the softs on lap 17 and came out just in front of the German. Vettel's strategy had not played out well and he was not convinced his tyres would not make the finish.
Hamilton, however, was in control, opening a four-second gap to Verstappen and retaking the lead when Daniel Ricciardo pitted on lap 27. Vettel meanwhile was three seconds off Verstappen but unable to make any impact on the Dutchman.
Hamilton was concerned his tyres were not maintaining temperature but crucially they were lasting the distance. On lap 38 he had to go through traffic and Verstappen closed to his wing. The Dutchman had a sniff of a chance but Hamilton just held the lead.
It was the final moment of real drama at the front. Vettel had to make the finish without stopping again and thus had no chance to challenge on his worn rubber. He was almost 40sec back when Hamilton took the flag after another commanding run that ensured a major lead with just six races remaining.
Valtteri Bottas was in fourth in front of Kimi Raikkonen. Ricciardo was in sixth. Fernando Alonso scored a strong seventh for McLaren with Renault's Carlos Sainz was in eighth and his team-mate Nico Hülkenberg in 10th. Charles Leclerc, who will drive for Ferrari next season, scored more points for Sauber in ninth.