Jubilation upon Museveni's Histroric Visit to Montepuez in Pictures
On a normal day, Montepuez, a town in the northern Cabo Delgado province of Mozambique, is a quiet settlement with its residents going about their work in the gardens or nearby mines. Saturday 19th, however, was no normal day.
By 7am, the streets were teeming with hundreds of excited people, many carrying the Mozambican and Ugandan flags, singing and dancing.
Next to the Basic Military Training Centre of Montepuez, tens of cultural and dance groups each conducted their performances, filling the air with a cacophony of sound.
Nearby, a military band went about practicing the Uganda national anthem. Mozambique's National Defence Minister Atanasio Mtumuke could be seen pacing about, ensuring everything was in order.
With each passing hour, the numbers of residents in the streets kept swelling, so did the excitement.
The town awaited an important guest. Marcelino Gurufu, a taxi driver, asked why he had abandoned his day's business to join the crowds, said, "Museveni is a son of Montepuez. We are glad that 40 years after we raised him, he is returning to visit us."
At exactly midday, the first of three helicopters carrying President Yoweri Museveni and his entourage touched down at the open ground that serves as a training space for soldiers.
As the President, accompanied by his daughter Natasha Karugire, alighted from the chopper, the crowd went into frenzy, cheering and ululating. Security men had to keep pushing the surging crowds.
Walk down memory lane
Acknowledging the crowds, President Museveni walked for about a kilometre, ignoring the official car provided for him, to the entry of the barracks where he first lay a wreath on a monument built in memory of fallen officers and men of the Mozambican army.
He was then conducted around the barracks, which between 1976-78, served as home and school for 27 young men he had identified and sneaked into Mozambique for military training ahead of plans to wage full-scale war against the Idi Amin dictatorship.
This would turn into the nucleus of the Front for National Salvation (FRONASA), that would between 1981 to 1994 become the National Resistance Army before being renamed the Uganda Peoples Defence Forces (UPDF) during the 1993 Constitution-making process.
At hand to receive him at Montepuez were the surviving three of this group; Gen Caleb Akandwanaho aka Salim Saleh, a Senior Presidential Adviser and Coordinator of the Operation Wealth Creation (OWC) programme, Lt. Gen. Ivan Koreta, an Army MP and Col Bosco Omure, who oversees special duties in northern Uganda under the Internal Security Organisation and also coordinates OWC in Lango.
As the clouds, which had earlier formed and threatened to rain cleared, giving way to a bright sunny afternoon, President Museveni was conducted around, touring the dormitory where his 27 fighters lived, the canteen where they were served food, and he signed the visitors book at a historic spot between two gigantic trees—where in the 1970s—he sat with Mozambican liberation icon Samora Machel and other leaders to plan their activities.
Above: Amb Kabonero with Mozambique president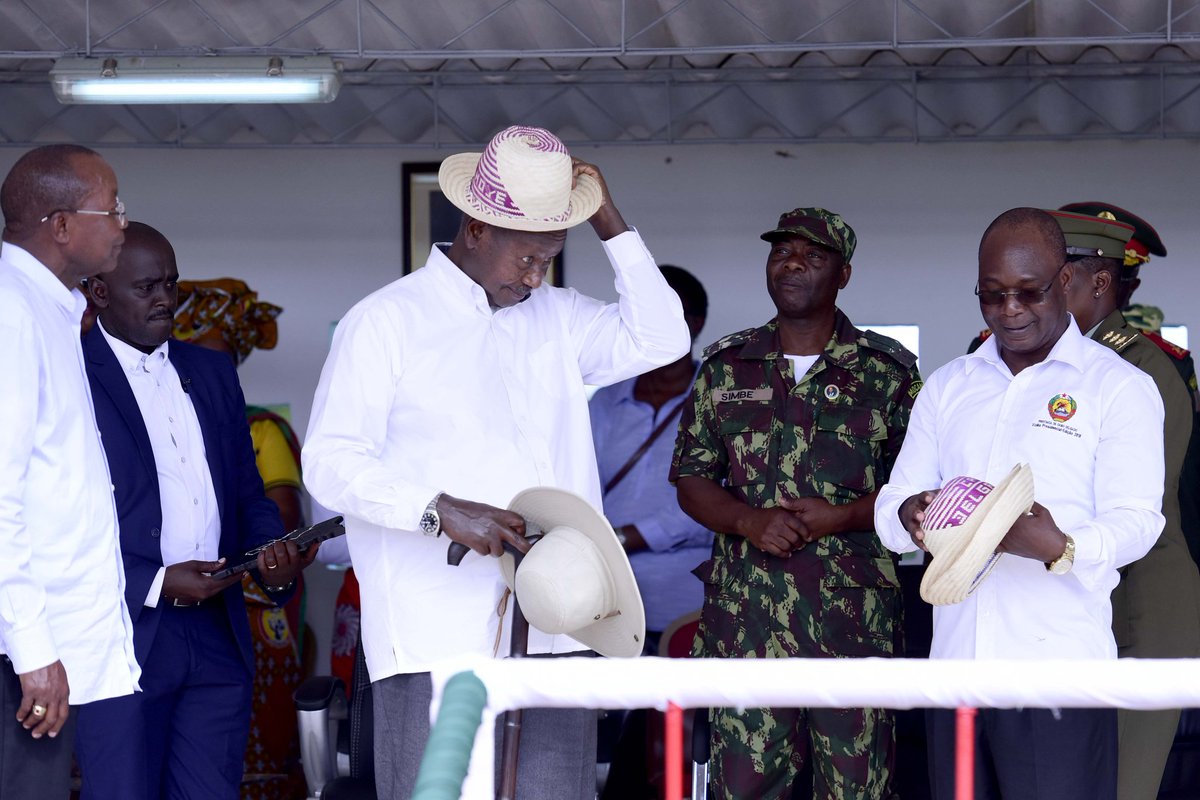 Above: I also thank the people of Montepuez for the numerous gifts given to me, my daughter Natasha, and my entourage. May you be blessed
Above: President Filipe Jacinto Nyusi of Mozambique receives President Museveni at the President's Office in Maputo, Mozambique on Thursday
Above: President Filipe Jacinto Nyusi of Mozambique and President Museveni share a light moment during a state banquate at Vermelha State House in Maputo.
Above: The President Yoweri Kaguta Museveni moves to lay a wreath at the war memorial ground in Montepuez millitary barracks.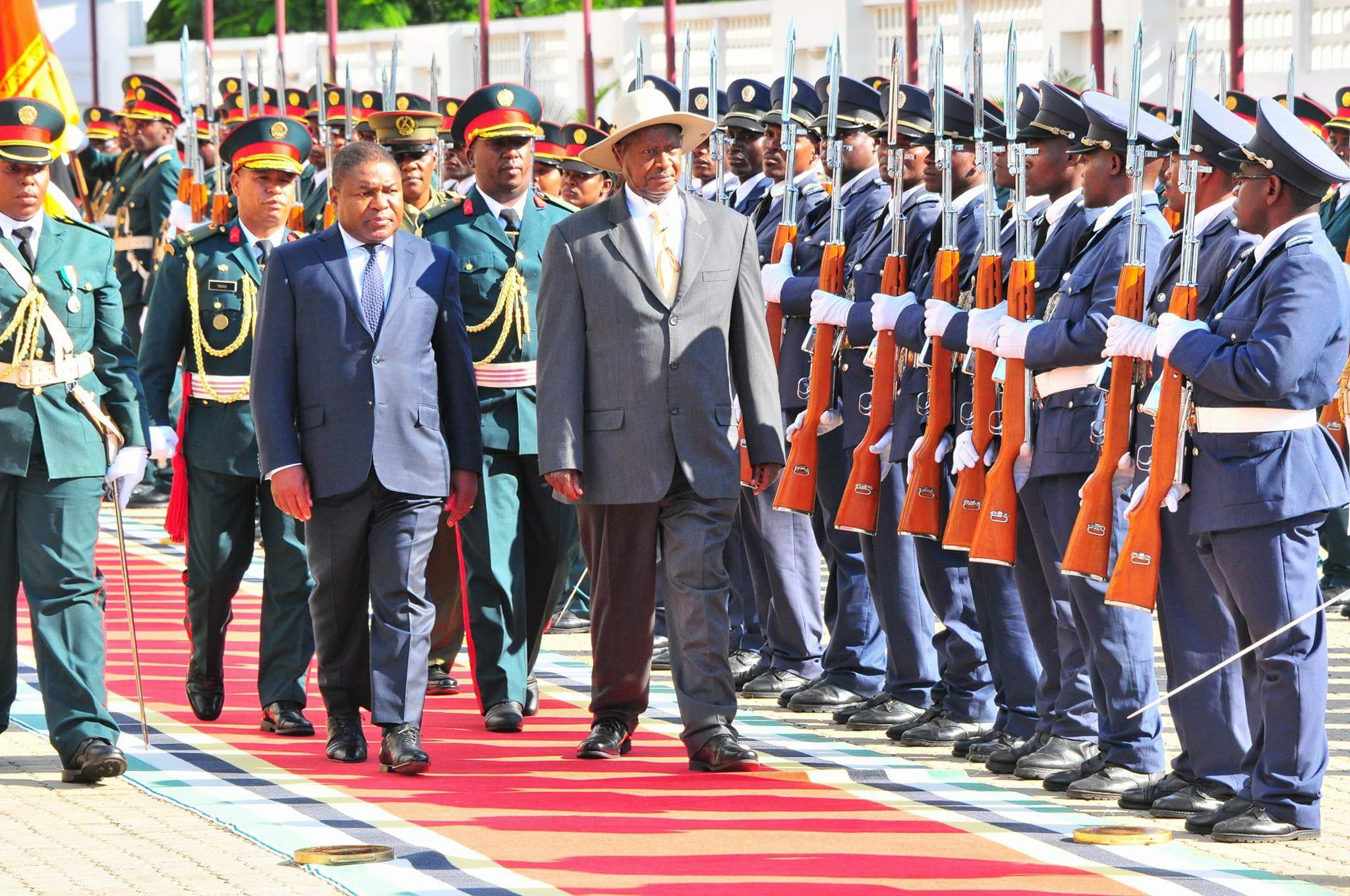 Above: President Yoweri Museveni (R) and Mozambique's Filipe Jacinto Nyusi (L) inspect a guard of honor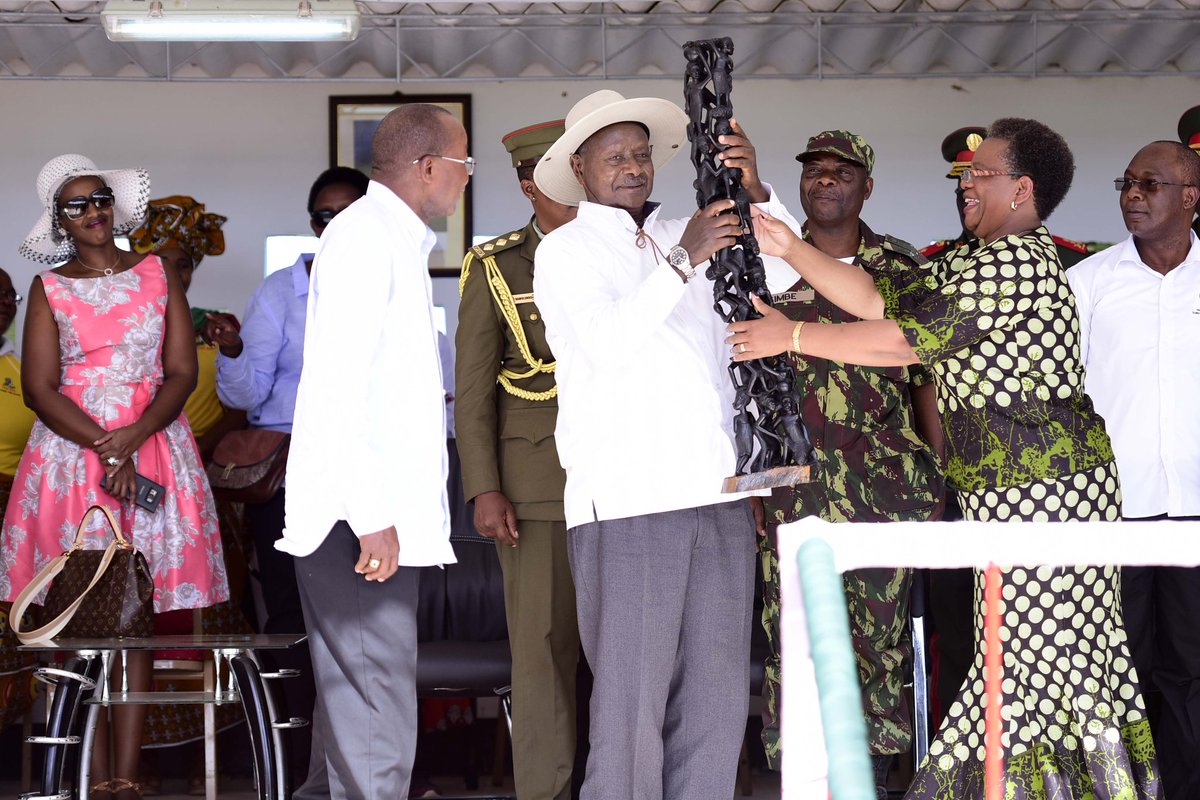 Before leaving Maputo, President Museveni took time off to visit a few comrades.
The president said he was glad to meet former Mozambique President Joachim Chissano at his home.
He also visited former President Armando Guebuza. He said it was good spending time with him and his family.
Museveni recalled how Gen Alberto Chipande used his personal car to transport FRONASA fighters to training camps in Mozambique in the 1970s.
"It was good paying a courtesy call to him and his family."
His last host in Maputo city was Marcelino dos Santos, 89, a founder member of FRELIMO.
"I pray that God keeps blessing and giving him good health."
Shortly after, President Museveni was led to the square, where he awarded medals to veterans who directly supported the Ugandan trainees, while others were recognized post-humously and their medals received by family members. Among those recognised were Juliao Chissico Francisco, a driver and Luis Manuel, a cook.
The President revealed that together with his three colleagues, they had decided to initiate a poultry project for the Montepuez veterans to boost their incomes. The project, said Mr. Museveni, would be integrated with a crop farming initiative to manage costs. He offered $26,000 (about Shs90m) to kick-start the project.
"Mozambican veterans showed us how to defeat the Portuguese. In Uganda, we veterans showed how to defeat bad governments. We must then show our people how to get out of poverty. Revolutionaries must show collaborators how to get out of poverty," he concluded.
Gifts and honours
Host Defence Minister, Mtumuke, in his remarks thanked President Museveni for remembering his revolutionary roots and retracing them. He announced that the barracks President Museveni had visited would be preserved as a "Museveni Museum" to promote solidarity of the two countries' armies.
Earlier, Ms. Etelvina Fevereiro, an Administrator of Cabo Delgado Province and Mr. Antonio Domingos Mapure, representing the region's Permanent Secretary, awarded President Museveni gifts including a walking stick, a hat, while Mrs. Natasha Karugire was given a blouse.
Later, President Museveni, whose Montepuez tour was the final activity of his state visit, was seen off at Pemba International Airport by the host Agriculture Minister, Mr. Francisco Marrule and a host of Ugandan officials including Veterans' Affairs Minister, Bright Rwamirama and Ambassador Richard Kabonero.