FORTEBET instantly pays out a MASSIVE Ugx 500,000,000/= to a Kalwerwe Betting man; Its the Biggest PAY-OUT in the annals of Sports Betting History in Uganda
By DailyNewsUG Business Correspondent
DAILYNEWS UG |Kalerwe Kampala|Sports betting in Uganda is here and has taken a stronghold in the Betting Industry. However, winning jackpots of Ugx 500,000,000/= is totally new and outright strange. But history was made recently by the Betting supreme Market Leader FORTEBET as a local betting Customer was paid cold hard cash with a humongous amount of Ugx 500,000,000/=.
Above: The 500,000,000/= winner getting his prompt Cash Payment
This amount is undoubtedly the biggest payout in the annals of sports betting in Uganda and East Africa. With the most popular league Uganda the EPL, just picking up full momentum more punters will be excited by this news.
One must understand that Online betting is a popular activity in Uganda, with thousands of bettors putting money down on the outcome of local and international sporting events all the time.
Above: The Man and his Money Ugx 500,000,000/=
But there is more to sports betting than just picking a team and hoping for the best. Unlike casino games where luck plays a major role, sports betting is more about skill and research than anything else.
Sure, there is some element of luck with larger multi-bets, but for the most part, dedication, research, and forecasting can really pay off and it did work out for this Kampala, Kalerwe Betting Man.
The betting man whose names are withheld on request won himself Shs 500million in a single coupon, becoming biggest winner in the history of betting in Uganda.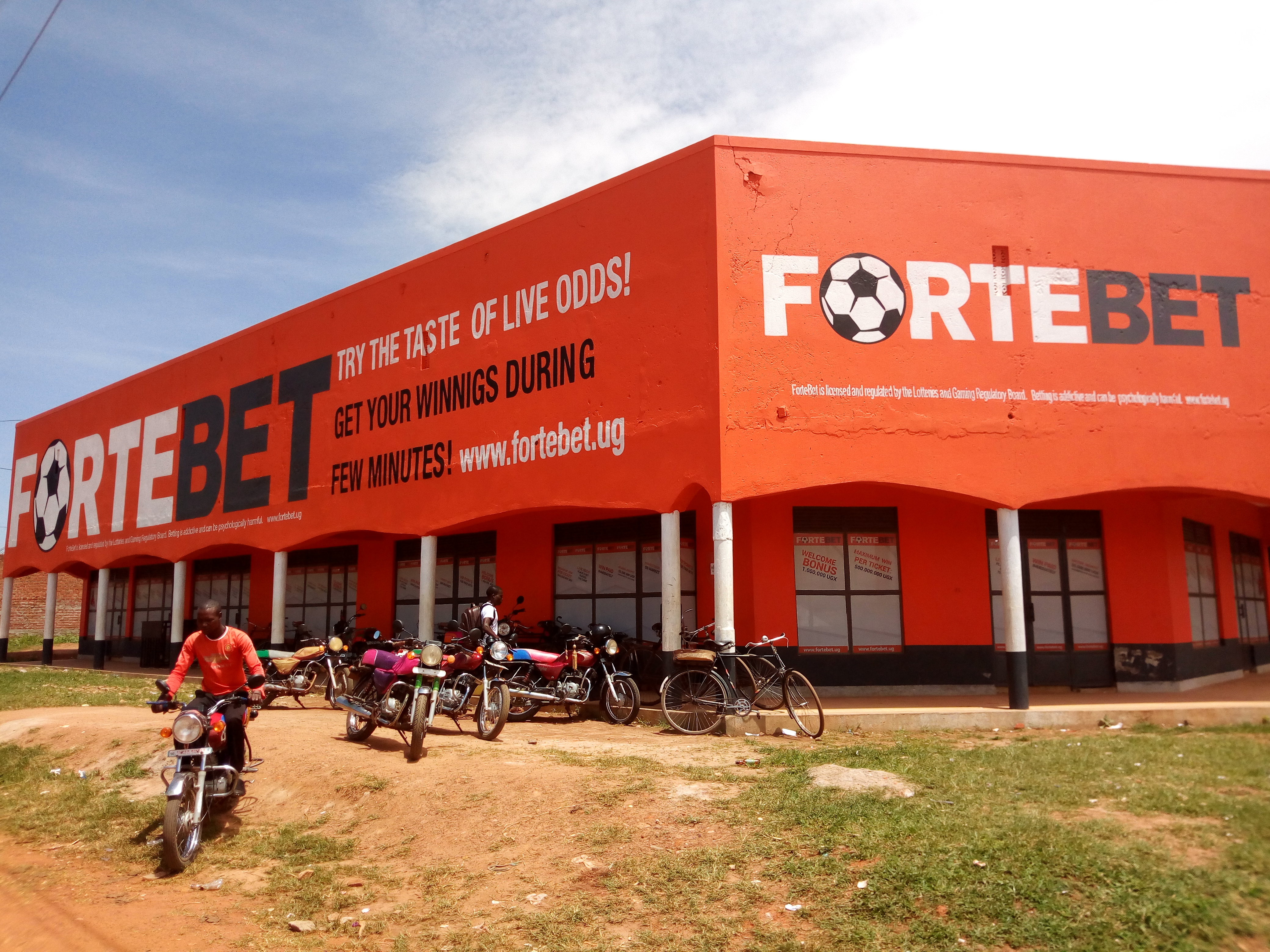 Previous payouts all headlined and run by FortuneBet
424,889,280/=
408,980,448/=
308,491,744/=
296,206,624/=
The latest Ugx WINNER of 500,000,000/= bet his ticket at Kalerwe trading center, outside Kampala City. His names have not been disclosed for privacy and obvious security purposes.
The Winner said "I have always had hopes that I will win this money because I have been missing it by one or two, three matches," he said.
On what he is going to use this money for, the winner said, "I am first going home and think well on how to invest this money".
"However, my top priority is land and building. I thank Fortebet because it is a very genuine company because my money reflected as soon as I won it and I confirm it has been given to me the moment I asked for it"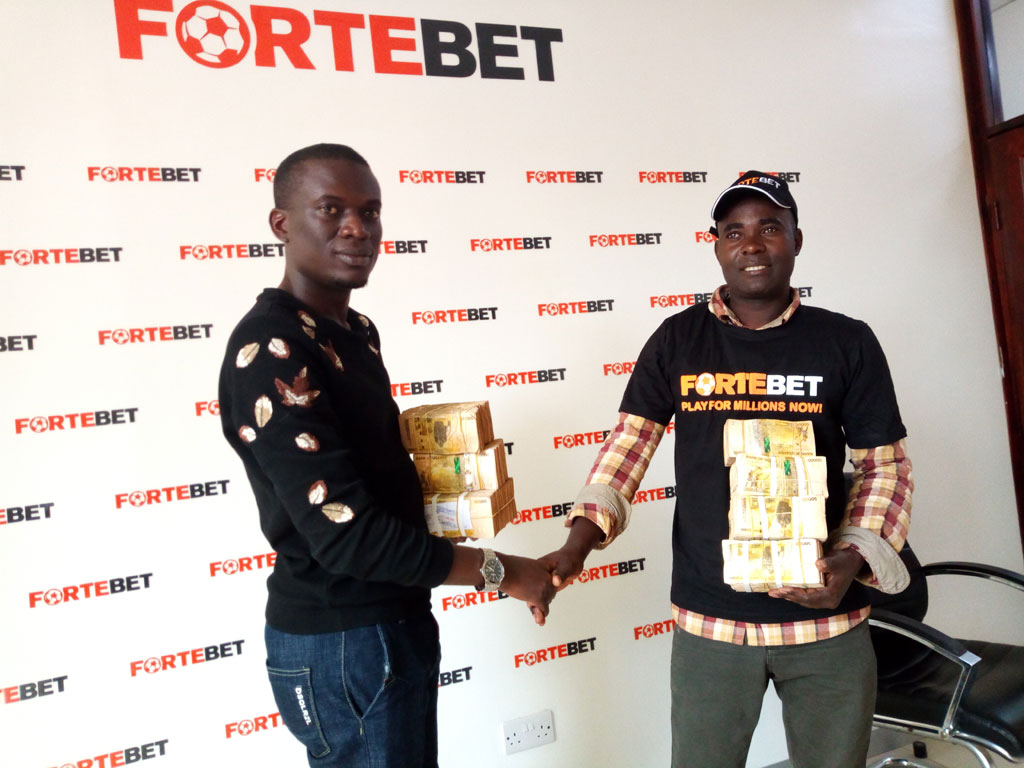 Above: Willy Bizimungu, a builder residing in Kajjansi won 210 million after staking only 10,000/= 
Modalities of the Winning Coupon
The winning ticket had only 10 matches, which were selected from the Brazilian Serie B, English FL Trophy Northern and Northern Ireland league cup.
The most outstanding selection of this ticket was the match between Blackpool and Accrington in which this betting hero went for half time over 2.5 (at least 3 goals) with a big odd of 5.60.
Blackpool's Joe Dodoo two goals (30' and 41') came just in the perfect time after Accrington's Connor Hall had already opened the shoreline in the 17th minute.
This made it 2-1 at half time. Just 41 minutes into this game, the "punter" started celebrating his win because this was the last game on his ticket, all the others having won.
This match was selected from England FL Trophy Northern, group C.
From the same competition, he selected another big odd, (4.80) after predicting an away win of Port Vale against Walsall as the game ended 1:2 for the visitors.
The other four selections from this same competition included; Morecambe-Sunderland (odd 1.48, bet 2, ended 0-1), Carlisle-Stoke U21 (odd 1.58, bet both to score, ended 1-1), Barnsley-Bradford (odd 1.93, bet both to score, ended 2-1) and Mickleover-Stratford (odd 2.75, bet 2, ended 0-1).
Before all the above matches, the winner had already selected two matches from Brazil; Ponte Preta-Coritiba (odd 1.41, bet 1, ended 2-0) and Figueirense-Paysandu (odd 1.97. bet over 2.5, ended 2-3). This ticket was also composed of; Glentoran-Crusaders (odd 1.73, bet 2, ended 2-4) and Ards-Ballymena (odd 1.67, bet 2, ended 0-1). Most of the matches didn't give this punter too much tension apart from Ards-Ballymena in which Jude Winchester scored the only and winning goal for Ballymena in the 93rd
Above: Bernard Rwakihembo paying off man from Hoima who won Shs308,491,744 from a stake of Shs1,000.
ForteBets Corporate Representative said the company is sure that this precedent and prompt payment of winnings will convince players they will be paid whatever they win, whenever they win.
In order to become a successful bettor, one needs a base of information to work with. This includes past results of games, updates on current events and future movements in the sport. All of these factors can influence the outcome of an upcoming game, race or event.
About FORTEBET
Grand Victoria Ltd. Trading as ForteBet, under license by the Grand Victoria Ltd, is a company incorporated in the Republic of Uganda and licensed by the national Lotteries Board of Uganda (Sportsbetting and online Casino license of the Gaming and Pool Betting – Control and Taxation – Regulations. Fortbet is a supporter of responsible gambling.
ForteBet is one of the leading betting providers on Uganda market offering sports betting and gaming services in over the country. They offer for our client highest odds on the market, easy registration process, excellent customer support and a variety of simple bet types.
ForteBet computer systems and data are carefully protected. Our technology Centre is based in Europe to ensure the reliability and security of our systems and your transactions.
Founded in 2014 as FortuneBet. On 2016 they changed brand to ForteBet. The impulse for this change was primarily to shorten the length and therefor to have a bigger impact on the effort to bring the brand itself closer to all clients for whom it will be easier to remember.
The Company provides a range of betting opportunities for various competitions and leagues. They also offer casino, games, and online live betting options.