EXPOSED: How Kasekende, Bagyenda, Kutesa & Matia Kasaija CONSPIRED to destroy SUDHIR, 17 months before BoU CLOSED Crane Bank
By DailyNewsUG Business Correspondent
DAILYNEWS UG Recently, emails have emerged showing how Foreign Affairs minister Sam Kutesa and his wife Edith allegedly attempted to get what is believed to have been Crane Bank sold to a Chinese energy enterprise long before Bank of Uganda asked Dr. Sudhir Ruparelia to re-capitalise Crane Bank.
Recent revelations in a US court show how Kutesa was given $500,000 (Shs 1.8 billion) as part of an international plot to advance the Chinese firm's business interests in Africa, specifically Uganda's energy and financial sectors.
Details of this transaction emerged following last November 18 arrest of Chi Ping Patrick Ho, a former home secretary of Hong Kong and head of a non-governmental organisation funded by the Chinese conglomerate.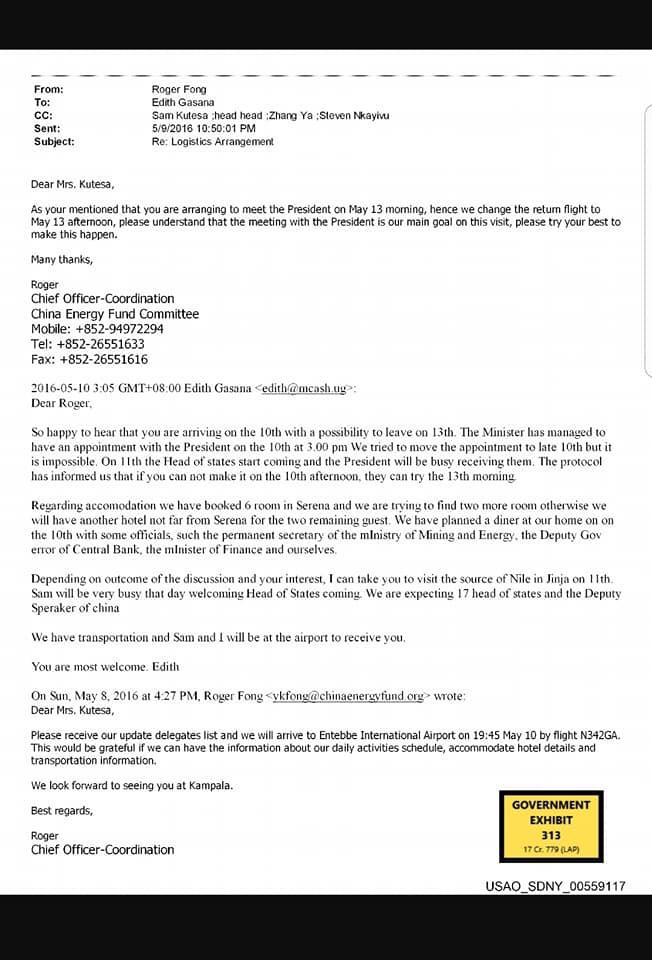 According to the emails tendered by prosecutors, in a case where Foreign Affairs Minister, Sam Kutesa and other accomplices are named and or involved in a bribery and money laundering scandal, Kutesa's wife- Edith Gasana Kutesa is named as working together with Deputy BoU Governor, Dr. Louis Kasekende and another unnamed BoU senior official, believed to be the sacked former Executive Director of Supervision, Mrs. Justine Bagyenda, to sell Crane Bank to CEFC China Energy Company, a Chinese energy conglomerate.
Mrs. Kutesa according to exhibits presented in a New York court, on or about March 17, 2015 emailed Ho about opportunities for investing in Uganda and specifically acquisition of a bank.
"We talked about banking sector with a possibility of acquiring a bank," she wrote.
She would later, organize a high profile dinner at her home, for Chi Ping Patrick Ho, believed to be an agent and conduit for CEFC China Energy Company and key government officials, including Kasekende.
"We have planned a dinner at our home on the 10th (May) 2016 with some officials such as the permanent secretary of the ministry of mining and energy, the deputy Governor of Central Bank, the Minister of Finance and ourselves," wrote Mrs. Kutesa in an email to a Roger Fong, the Chief Officer, Coordination at China Energy Fund Committee and an assistant to Ho.
Ho, is a former home secretary of Hong Kong and head of the China Energy Fund Committee, a Hong Kong research organization financed by CEFC China Energy Company, a major Chinese energy conglomerate. Mr. Ho has since been convicted by a New York court over a multimillion dollar bribery scheme to top officials in Uganda and Chad, including Sam Kutesa who received a $500,000 contribution to a bogus charity.
The contribution according to US prosecutors was a bribe to soften the Chinese company's business prospects in Uganda. It is however not clear if the bribe was only meant for Kutesa only or if Kutesa was a conduit for other government officials involved in the wheeler-dealing.
It is also not clear if finance Matia Kasaija who has been a supporter of Bagyenda, re-appointing her to her board position on the Financial Intelligence Authority even after her unexplainable riches came to light and after she had been sacked from BoU for her role in the mismanagement of defunct banks, attended the meeting. It was also recently reported that President Museveni blocked an attempt by Kasaija to obtain a Cabinet memorandum to stop the ongoing Parliamentary inquiry into Bank of Uganda over unilateral closure of commercial banks.
Opportunity to sell Crane Bank  
Following the meeting with Mr. Ho in May 2016, Mrs. Kutesa, according to Ho's indictment papers, on October 13, 2016, in an email titled "Opportunity to invest in banking sector"said that Kasekende had had made contact with her about a "possible acquisition of a local bank" and asked the Chinese to urgently write to Deputy Governor, Louis Kasekende expressing interest of taking over the bank, now believed to Crane Bank.
"The Central Bank Official you met during your visit has contacted us to inform you about the possible acquisition of a local bank but as you know, selling a bank is a very confidential and urgent process," wrote Mrs Kutesa on or about October 13th 2016.
However, the deal did not sail through, as on October 20th 2016, the Governor, Prof Tumusiime Mutebile directed that the Central Bank takeover Crane Bank.    
Even after the BoU takeover of Crane Bank, efforts by Mrs. Kutesa and her accomplices to sell off Crane Bank did not stop. The FBI investigation found that on or about October 24, 2016, Edith again emailed Ho, this time copying Kasekende, stating that: "I tried your number in vain, adding, "Please try to contact the vice governor as soon as you can."
She provided a telephone number on which Ho could reach Kasekende.
"It is quite urgent," she wrote.
Although it is not clear if Ho spoke to Kasekende, FBI adduced evidence showing that Ho then emailed Kasekende, stating, "Please send me whatever you have through this mail."
The next day, on October 25, 2016, the FBI says Ho received an email from an unnamed BoU official believed to be Mrs. Justine Bagyenda, who inquired whether the energy company was still interested in acquiring a bank in Uganda.
According to information available from the Auditor General's report on the sale and as per the ongoing COSASE investigations, BoU- officials led by Bagyenda, Kasekende and a one Benedict Sekabira, would proceed to sell Crane Bank valued at Shs1.3 trillion under mysterious super-fast circumstances and at a sweetheart price of Shs200bn payable over a period of 30 months and at no interest, causing Ugandans, a loss of UGX39.5 billion.
The same officials, also secretly transferred Shs570.3 billion of Crane Bank's bad loan book to dfcu Bank- secretly because there was no agreement and or schedule of loans and the corresponding collateral.
Crane Bank shareholders have since laid claim on the bad loan book, since they had been made pay for these bad loans by forfeiting their shareholder capital worth Shs350 billion as well as pay an additional $23.5 (Shs85 billion) paid in cash to the Central Bank.
A January 25, 2017 letter (the same day as the Crane Bank sale agreement) by Bagyenda  would emerge, granting among many other waivers, to dfcu to "ring-fence", manage and report on the "non-performing loans and advances acquired by dfcu separately from dfcu's pre-transaction balance sheet for a period of at least twelve (12) months."
According to analysts, Bagyenda's letter, was a cover-up for the key architects of the controversial sale and would legitimize the process of recovery on the bad loans, without placing the recovery process under the usually rigorous BoU scrutiny and the strict anti-money laundering reporting process.
Great job, Abdul Katuntu in probing Bank of Uganda (BoU) and exposing the dirt therein.