Emirates touches down in Edinburgh
By DailyNewsUG Correspondent
Dubai, UAE: 1 October 2018 – Emirates, the world's largest international airline, today celebrated the inaugural flight of its new service between Dubai and Edinburgh. The Emirates Boeing 777-300ER touched down in the Scottish capital just before 3pm local time, making Edinburgh the airline's second destination in Scotland and the eighth in the United Kingdom.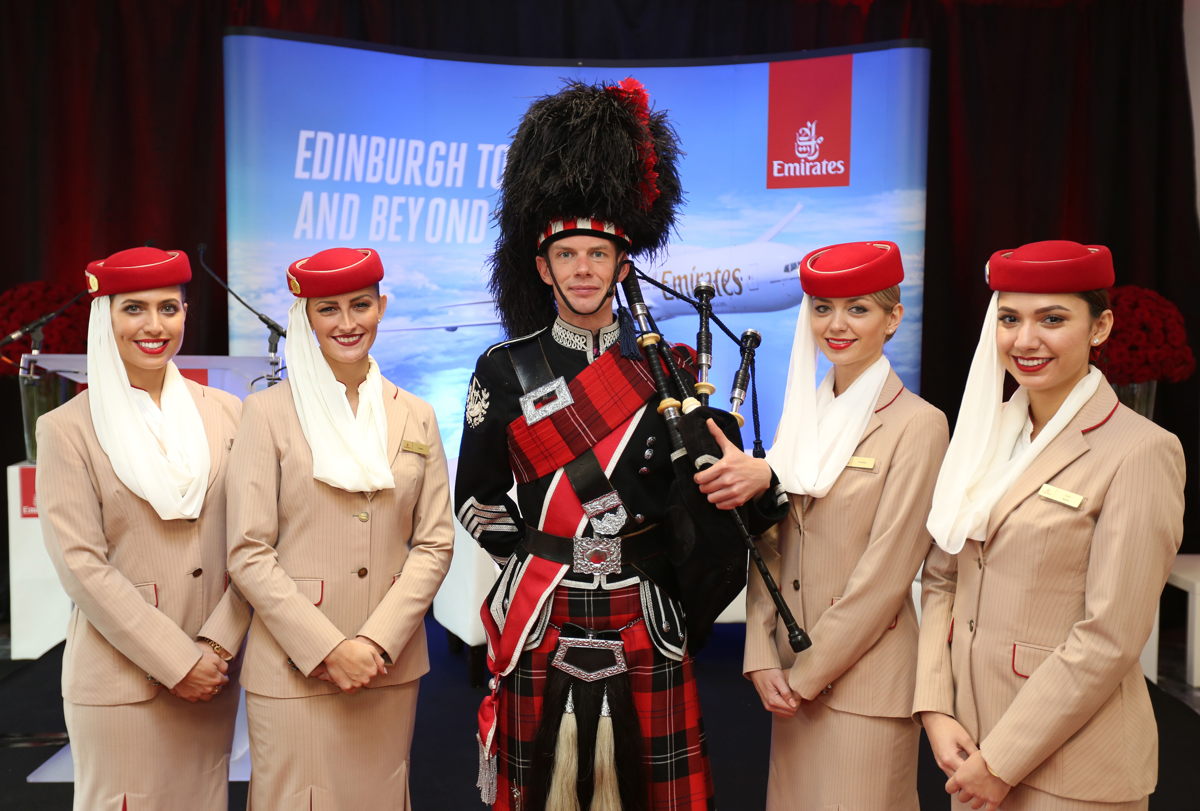 Emirates is welcomed to Edinburgh Airport by a Scottish bagpiper.
Emirates flight EK023, with a group of VIP guests and media on board, was welcomed by Edinburgh Airport with a water cannon salute.
To celebrate the new service, Emirates and Edinburgh Airport held a launch event hosted by Hubert Frach, Emirates Divisional Senior Vice President, Commercial Operations West, and Richard Jewsbury, Divisional Vice President, UK, alongside Gordon Dewar, Chief Executive of Edinburgh Airport.
"Today's flight marks the start of greater connectivity and more convenience for leisure and business travellers from the wider Edinburgh area and locations further afield, such as Aberdeen and Dundee, to destinations across Emirates' global network via Dubai. While for inbound travellers, particularly from cities in Asia and Australia, there is now a direct flight option to Scotland's most visited city by tourists," said Mr Frach. "In addition to tourism, the new flight will also directly connect Edinburgh to new opportunities for business, trade and education across our network."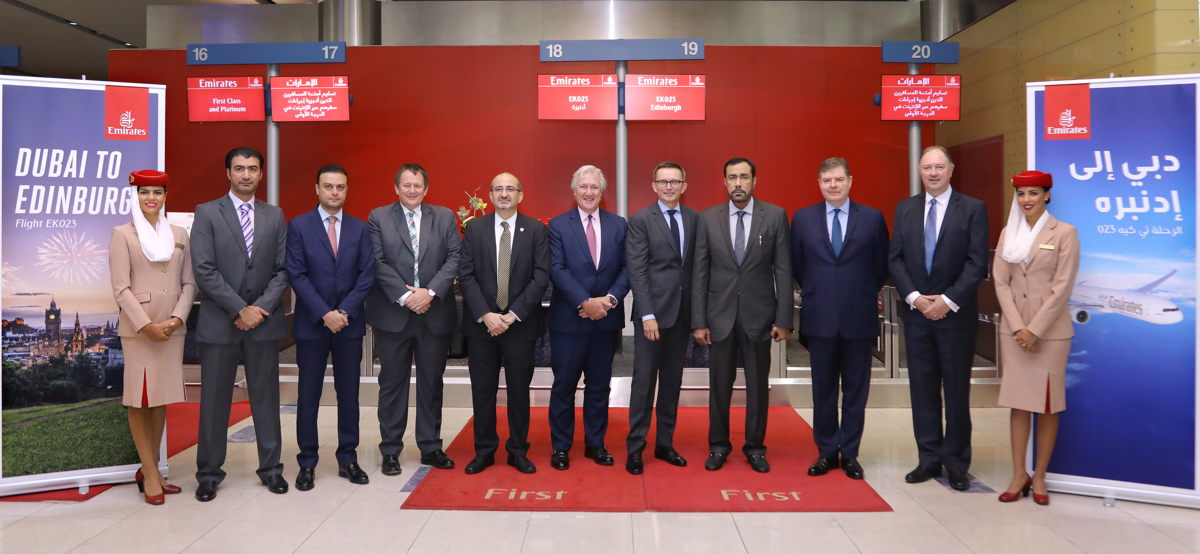 The VIP delegation on the inaugural flight to Edinburgh. Flanked by Emirates cabin crew, from left to right – Major Abdulhamid Ahli, Head of the Operations Department – General Directorate of Residency and Foreign Affairs, Dubai; Mohamed Amin Attia El-Awady, General Manager – Alarabiyah Travel & Tourism; Gavin Steel, Partner, PwC; Professor Ammar Kaka, Provost, Heriot Watt University Dubai; Campbell Maclean Steedman, Head of Middle East – Corporate Finance, Winston & Strawn LLP; Hubert Frach, Emirates' Divisional Senior Vice President – Commercial Operations West; Brigadier Ali Bin Lahej, Director General – General Department of Airport Security, Dubai Police; Nicholas Maclean, Managing Director, Scotland Trade Envoy to the United Arab Emirates; Bill McPherson, Emirates' Vice President – Emirates Airport Services outstations.
Gordon Dewar, Chief Executive, Edinburgh Airport, said: "This is a great day for Scotland and Edinburgh. We know the power of connectivity – the more we can connect with cities and countries across the globe, the more opportunity for passengers.  It makes our country stronger and culturally richer.
"Our partnership with a world class brand like Emirates strengthens and grows our country's connectivity and we look forward to working with them to the benefit of passengers across the world. We've built our success on making Edinburgh where Scotland meets the world and today's flight see us take a major step on that journey."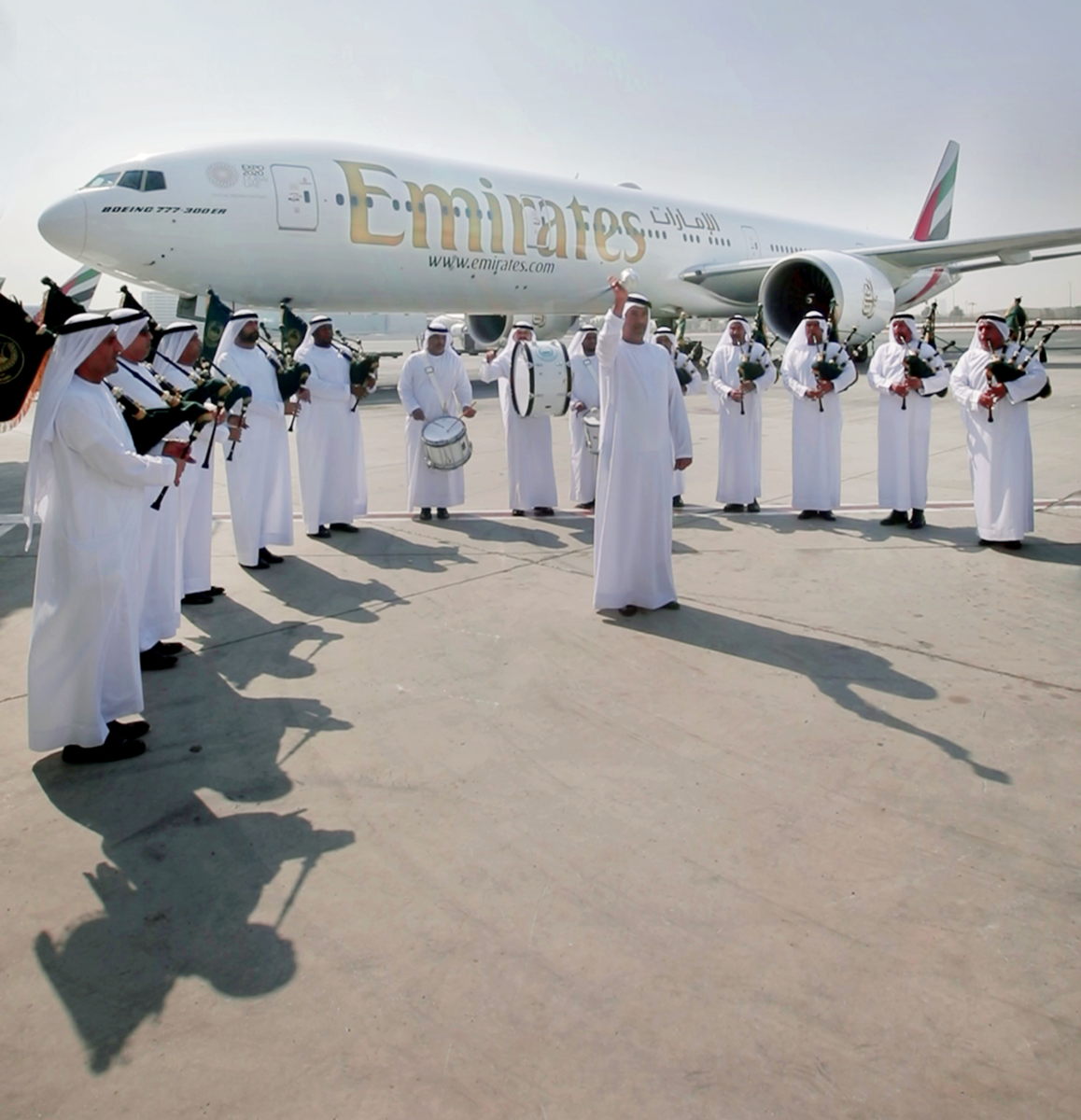 The Dubai Police Band gives Emirates flight EK23 a send-off with a Scottish flavour.
The Boeing 777 deployed on the route has a three-class cabin configuration, with eight private suites in First Class, 42 lie flat seats in Business Class and 304 spacious seats in Economy Class. As with all Emirates' flights to the UK, customers will enjoy the more than 3500 channels of on demand audio and visual entertainment on the airline's award-winning ice system, as well as the warm hospitality from its multinational cabin crew.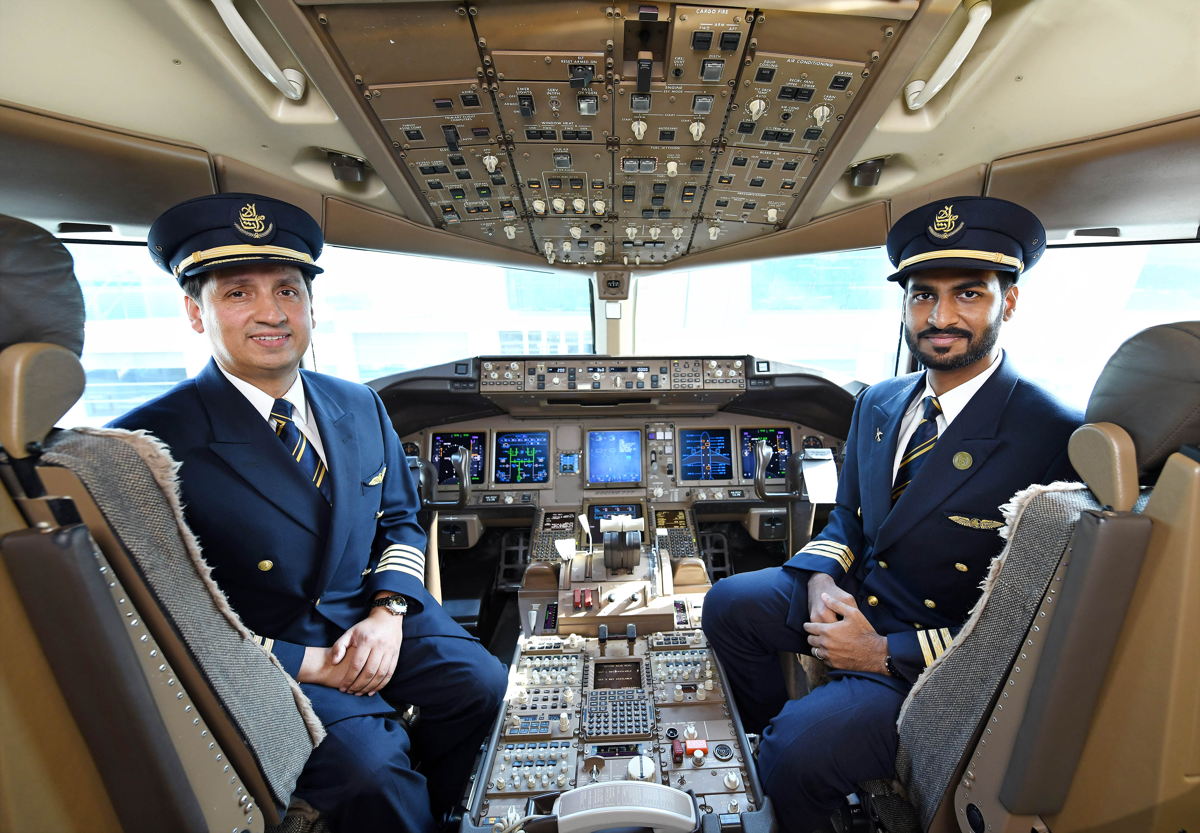 The flight deck crew of the inaugural flight. (left) Captain Amer Irshad (UK) and First Officer Khalifa Majid Al Halyan (UAE).
Other destinations which Emirates serves in the UK, include London Heathrow, London Gatwick, London Stansted, Birmingham, Newcastle, Manchester and Glasgow.
For more information on Emirates, including how to book flights and a complete list of terms and conditions, visit www.emirates.ae, travel agent or through the local Emirates Sales Office. Terms & conditions apply.
Emirates Kampala, Uganda (Town office)
Address:
Acacia Place – Plot 6 (Kololo)
Ist Floor, P O Box 33124
Kampala, Uganda
Working hours:
Monday to Friday, 08:30 to 16:30, Saturday, 08:30 to 12:30, Public holidays, closed
Telephone:
+256 41 771 0444
+256 41 771 0444