BREAKING: Kaweesi Murder Weapons 'handed back' to Senior Cop & taken to Upscale Kololo Home
DAILYNEWS UG A suspect in Police custody has provide fresh details regarding the murder of former police spokesperson Andrew Felix Kaweesi last year.
And the shocking details indicate that the killers of Kaweesi handed the guns used to a person believed to be a policeman at a spot on the Northern Bypass before proceeding on motorcycles and the said killers escaped through Kisaasi to an undisclosed location.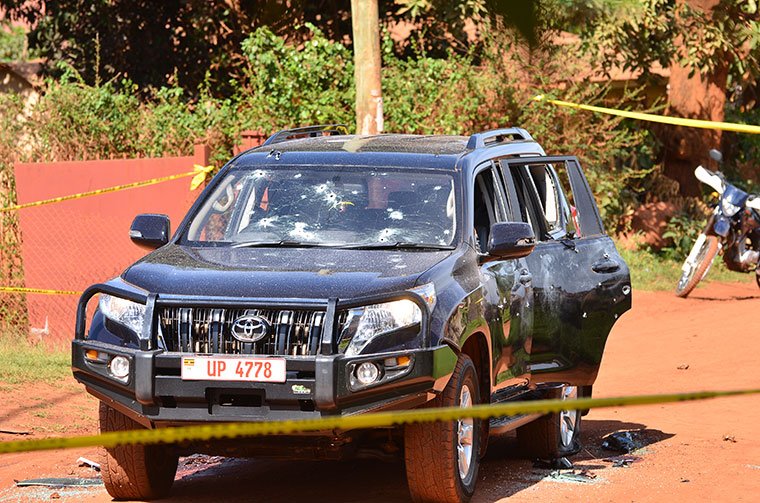 The paper also said fresh investigations show that after receiving the guns, the said Policeman took them to an undisclosed location in the upscale Kololo surburb, Kampala. It is not clear how many guns were used in the murder of Kaweesi, although the killers used more than one gun and left the car with 158 bullet-hole marks.
This information comes following the arrest of former inspector general of police, Gen Kale Kayihura on Wednesday last week by the Chieftaincy Military Intelligence.
Kayihura, who was sacked in March this year but once the blue-eyed boy of President Yoweri Museveni, was arrested by the army from his country home in Kasagama, Lyantonde district.
Sources say Kayihura has been linked to a spate of criminality in the country including the murder of Kaweesi last year.
Kayihura (above) is being accused together with five senior police officers on charges that are not yet known. The officers include; his former personal assistant Jonathan Baroza, former Flying Squad commander Herbert Muhangi, former cyber-crime director Richard Ndaboine, former director of crime intelligence Ndawula Atwooki and former Kampala South Regional police commander Siraje Bakaleke.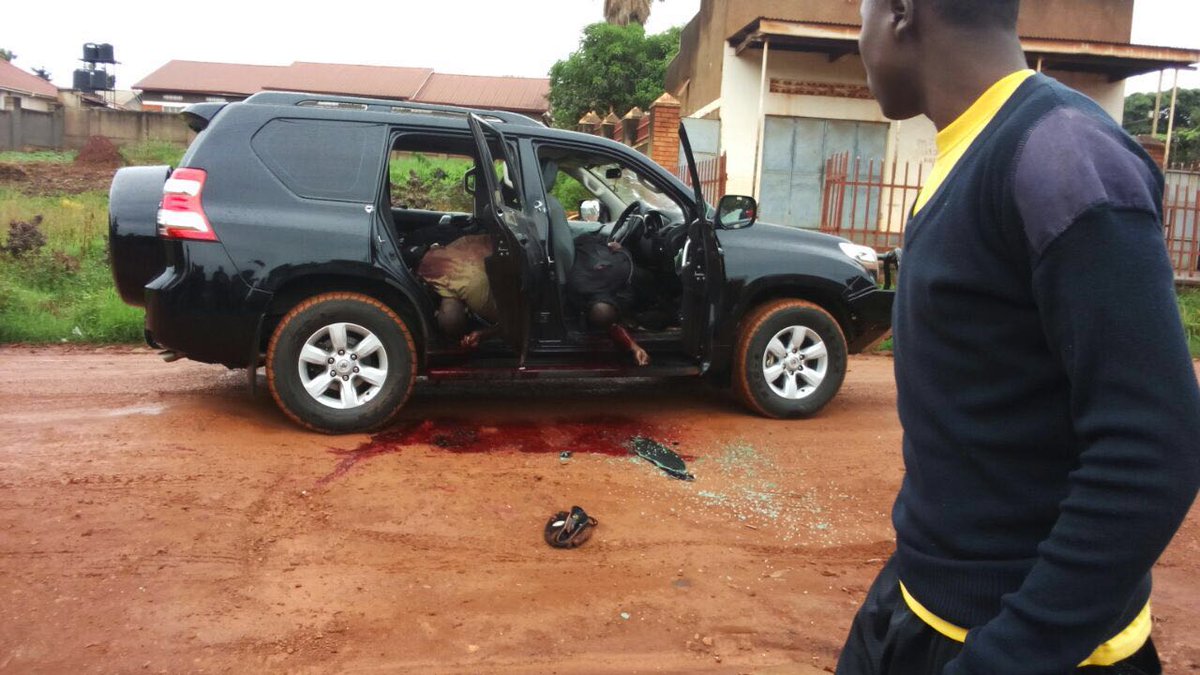 About Andrew Kaweesi
Andrew Felix Kaweesi was the Assistant Inspector General of Police (AIGP) Uganda, and policeman. He was the Spokesperson of Uganda Police Force from August 2016 to 2017 when he was killed. Kaweesi joined police during the 2001 police intake and he is the first to die among that intake. In 2016, Kaweesi was appointed by the Inspector General of Police (Kale Kayihura) to be the head of the Police's public relations department.
Kaweesi was shot on Friday morning when he was leaving his home for duty. He was traveling with one of his bodyguards, Kenneth Erau and the driver, Geoffrey Wambewo who were both killed about 100metres from Kaweesi's gate. The three dead bodies were taken to Mulago National Referral Hospital for post-mortem. It was discovered that Kaweesi was shot 27 times, his bodyguard, Kenneth Erau, was shoot 33 times while the driver, Geoffrey Wambewo, was shot 11 times. The police vehicle in which the three were traveling in was found to have 77 bullet holes. According to eyewitnesses, two riding motorcycles came from behind and shoot the police vehicle in which the deceased were using. Kaweesi's driver tried to increase the speed but he was overpowered by the motorbikes. Uganda has been facing assassinations with the same mode since November 2016. An example being an army officer Major Sulaiman Kiggundu who was shot dead in his car by gunmen on two motorcycles. Two days before his death, Kaweesi confided in a priest about the message he received on phone threatening his life. The message was from an unregistered number. Twenty-two people were arrested as suspects and still facing charges.
Burial: Kaweesi was buried in his ancestral home in Kyazanga, Lwengo district on Tuesday, March 21. Prior to that, Kaweesi's body was taken to St. Andrew's Church, Kulambiro, Ntinda, Kampala on Sunday, March 19, for prayers at 3:00 pm. And the vigil was held at his home, Kulambiro. Also, a mass at Rubaga Cathedral was held on Monday, March 20 for Kaweesi.