BOU-Crane Bank Probe: MMAKS Lawyer Masembe Summoned after Snubbing COSASE
By DailyNewsUG Reporter
DAILYNEWS UG |Parliament of Uganda| Lawyer Timothy Kanyererezi  Masembe of MMAKS Advocates has on Tuesday, February 12 appeared before  Parliament's Committee on Commissions Statutory Authorities and State Enterprises  (COSASE).
This is after Mr Masembe pocketed Shs900m in the controversial sale of Crane Bank (CBL) to Dfcu snubbed the Parliamentary Committee on Tuesday morning.
Mr Masembe was a no show at the Committee where his MMAKS Advocates was appearing. He was represented by other lawyers who were kicked out of the meeting for failing to present crucial documents regarding the sale of Crane Bank.
Above: MMAKS Partners at Parliament before the arrival of Masembe who was playing hide-and-seek with COSASE but came later in the afternoon.
COSASE chairman Abdu Katuntu ordered them to return at 2pm with all supporting documents and also summoned lawyer Masembe to appear in person.
Mr. Masembe will also be required to clear the air over whether BoU hired them as transaction advisers in the disputed Crane Bank takeover at a fee of $251,045 (about Shs943.3m).
In handpicking MMAKS, MPs have already warned that Ms Justine Bagyenda, then director for Supervision usurped the powers of the legal department by taking over the drafting of the terms of engagement between BoU and MMAKS.
The central bank in October 2016 closed Crane Bank, previously one of the best performing banks before controversially selling it dfcu Bank in January 2017 for a paltry Shs200 billion. The central bank then sought to take Mr Sudhir and other directors to court, hiring the services of Mr Masembe and Mr Mpanga, but the city businessman protested saying that the two lawyers had represented Crane Bank and had conflict of interest. The Commercial court later stripped them naked, ruling them out of order.
Mr Masembe was three weeks ago a subject of controversy after he was filmed meeting the former Executive Director for Supervision Justine Bagyenda inside the bank premises on a Sunday with the video clipped played before the Parliamentary Committee.
MMAKS later issued a statement confirming the meeting happened.
Masembe's MMAKS Advocates were paid Shs914, 272,722 for legal advice during CBL intervention, resolution and advice on the sale of CBL assets and assumption of liabilities.
The firm would further be paid extra Shs3 billion as 5% commission monies recovered from CBL shareholders. The MPs contend those payments were exaggerated to benefit some BoU senior staff involved in the sale of CBL.
Late last year, Bank of Uganda officials led by Governor Emmanuel Mutebile failed to account for shs 900m which they paid to MMAKS advocates for external legal advice in the sale of Crane Bank.
The former director of Bank supervision at BoU Justine Bagyenda failed to convince the legislators on the business MMAKS did with BoU as some records were missing.
Bagyenda read to the MPs a memo/document of November 30, 2016 requesting for payment of the lawyers without showing the work that was done. BoU governor would on December 12, endorse and approve the request for payment of over US$51000 dollars as part of their total fee.
The law firm was hired after On October 28, 2016, BOU engaged PWC to carry out a forensic review of Crane Bank Limited (CBL) focusing on a 48 month period before statutory management which was completed on January 13, 2017.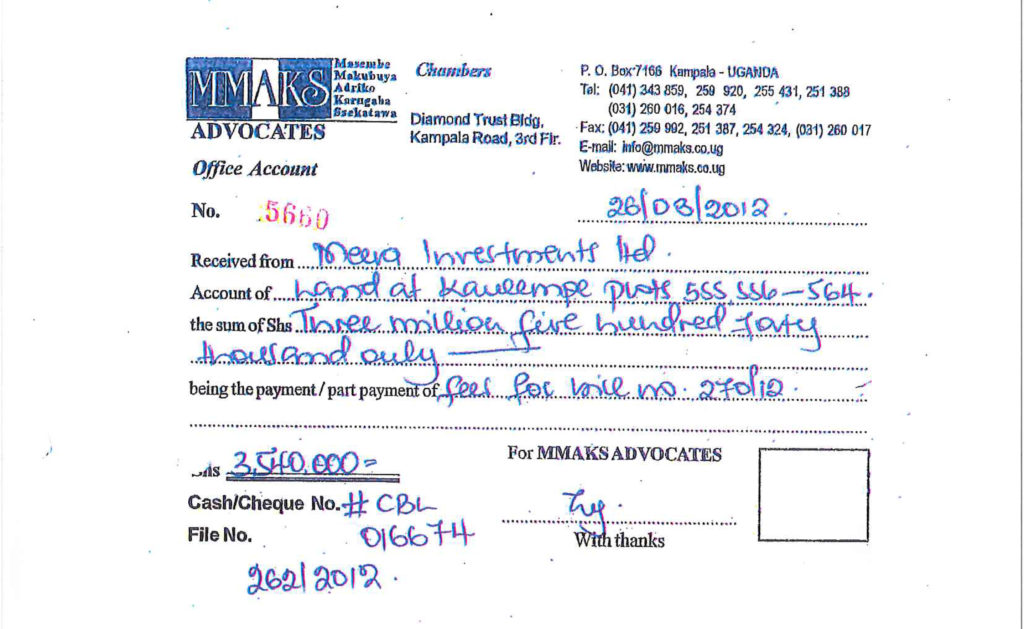 Above Conflicted Lawyers: MMAKS is a former Lawyer of Ruparelia Group of which Meera Investments is a Subsidiary. 
On November 28, 2016, BOU engaged MMAKS Advocates to provide transaction advice to take over CBL and the firm would on December 9, 2016, on behalf of BoU, invite 13 bidders to bid for the purchase of assets and assumption of liabilities of CBL. Between 12th and 15th December 2016, BOU issued the Inventory report to 6 bidders after signing a confidential agreement for them to undertake due diligence on the assets and liabilities of CBL. Subsequently on 20th December 20, 2016, two bids were received and evaluated.
The Parliamentary Committee on Commissions, Statutory Authorities and State Enterprises (Cosase) is currently conducting an inquiry into the conduct of Bank of Uganda and it's officials in the closure of seven banks, with some ending up in massive controversy.
The MPs' inquiry is also focusing on the mismanagement of closed banks by BoU after the Auditor General Mr John Muwanga issued a stinging criticism of the central bank in a special audit that cited massive flaws in the closure of Teefe Bank (1993), International Credit Bank Ltd (1998), Greenland Bank (1999), The Co-operative Bank (1999), National Bank of Commerce (2012), Global Trust Bank (2014) and the sale of Crane Bank Ltd (CBL) to dfcu (2016).